The Importance of Women's Representation on Boards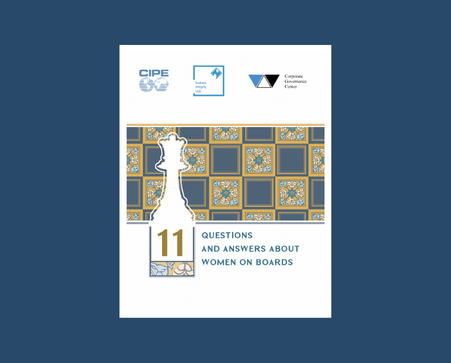 CIPE's Center for Women's Economic Empowerment and partner, the Corporate Governance Center (CGC) foundation in Armenia, collaborated to publish "11 Questions and Answers about Women on Boards" based on the CGC's Women on Boards training program. The brochure was developed within the "Armenia. Women on the Board of Directors" grant project of the Center for International Private Enterprise implemented by CGC.
In the modern world, the private sector not only describes the economic potential of a country, but also takes a responsible approach to social issues in order to ensure its own long-term development and progress of society. One such issue is ensuring women inclusion in corporate governance and corporate decision-making processes. In terms of the private sector, gender diversity in the corporate governance system brings 'gender dividends' in the form of organizational and financial efficiency and performance, increased competitiveness and long-term viability. Given the link between public and private sectors, it can be argued that the dynamically developing private sector lays ground for the well-being of society and the improvement of quality of life. Therefore, the incomplete use of the potential of at least 50% of the population (women) is nothing but an artificial constraint of capacities and reinforcement of social issues. The issue raised is more than relevant in Armenia, although there is a lack of proper and comprehensive understanding of it yet.
This brochure aims to present the need for and main advantages of boards' gender diversity and inclusion, main factors and barriers affecting them. The brochure refers to approaches aimed at promoting women representation on boards and the experience of different countries. The brochure may be of interest to representatives of both private and public sectors and serve as a handy resource while  developing corporate and governance policies.
The brochure provides answers to the following 11 questions:
Why is diversity needed on boards?
What are the benefits of women representation on boards?
Is diversity a sufficient condition to benefit from women representation on boards?
What factors affect the representation of women on the board of directors?
What are the main barriers to women representation on the board of directors?
How to promote women's representation on the board of directors?
What factors affect quotas?
What institutional structures exist to ensure law enforcement of quotas?
What is the experience of applying quotas by country?
How are "soft" initiatives implemented?
What do professional board members advise?
Published Date: August 26, 2022