An Investigation of

the

I

mplications of

U

nregulated

F

oreign

D

irect

I

nvestment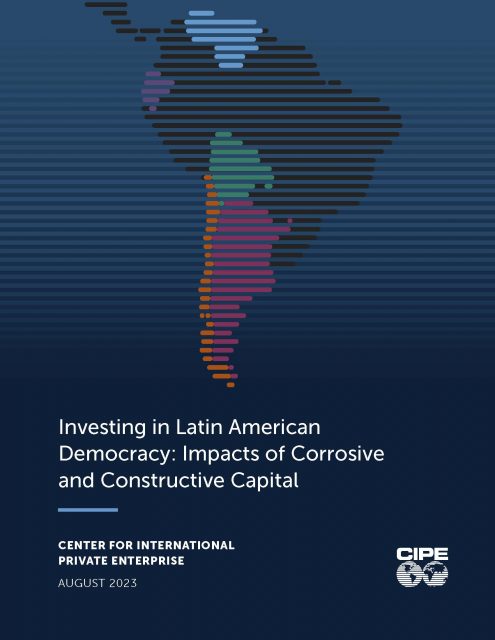 Washington, August 23, 2023 – The Center for International Private Enterprise (CIPE) released a compilation of case studies, Investing in Latin American Democracy: Impacts of Corrosive and Constructive Capital, which summarizes the key findings from five years of investigation into the influx and effects of "corrosive" and "constructive" capital in Latin America. The weakened and fragile state of many Latin American nations has increased their dependency on foreign financing, which often comes from anti-democratic nations. Due to a lack of other financing options, countries accept financing, whether state or private, that lacks transparency, accountability, and market orientation.  
CIPE's research indicates that "most corrosive capital projects in Latin America during the past two decades have been linked to Chinese businesses and banks." Russia, Iran, and other Latin American countries also contribute to the problem of unregulated foreign direct investment (FDI); however, the report focuses on China's unique position in the region. 
"All FDI is not created equal," said Eric Hontz, director of CIPE's Center for Accountable Investment. "Investment carries a culture and spirit of doing business, which can be inclusive and transformative, or exclusionary and transactional. The framework we have created will empower the nations of Latin America to create the future they want for themselves."  
The report also provides practical information on how countries can attract capital with a constructive impact on their economies. Below are six CIPE recommendations for the region:  
Transparent Public Contracting

 

Ultimate Beneficial Ownership Disclosure

 

Competitive Public Contracting

 

Consistent Application of Standardized Regulations

 

Judicial Independence and Security

 

Corporate Transparency

 
To end the exploitative nature of corrosive capital in Latin America and protect democratic institutions, the private and public sectors must commit to the principles of transparency, accountability, and the rule of law. A full copy of the report can be found here. 
About CIPE
The Center for International Private Enterprise (CIPE) is a global organization that works to strengthen democracy and build competitive markets in many of the world's most challenging environments. Working alongside local partners and tomorrow's leaders, CIPE advances the voice of business in policy making, promotes opportunity, and develops resilient and inclusive economies. To learn more about CIPE, visit cipe.org, Facebook, Twitter, or LinkedIn.
Published Date: August 24, 2023