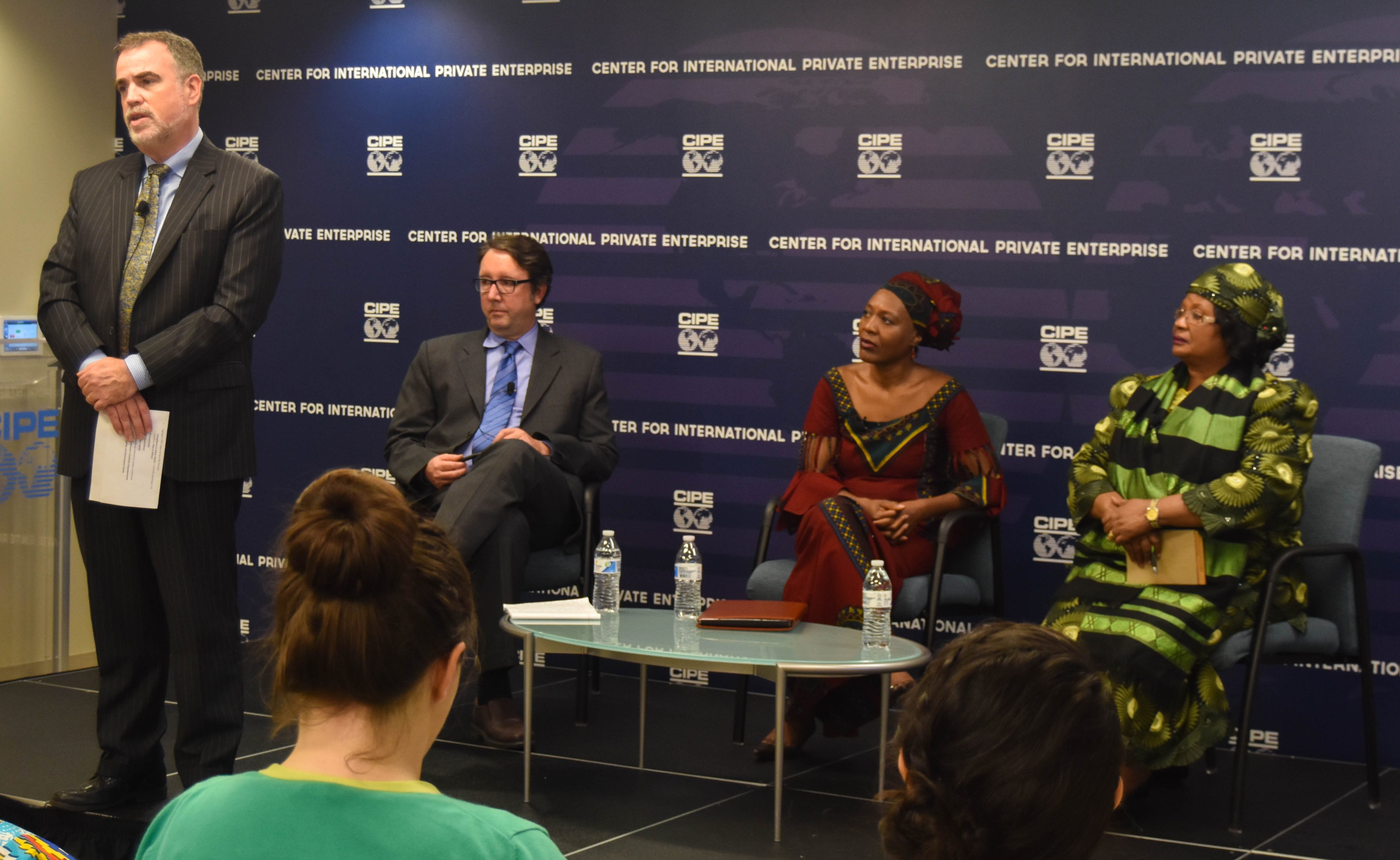 Around the world, systemic corruption continues to impede market development and erode the legitimacy of political systems. Across Africa, leaders have attempted to tackle the corruption endemic in bureaucracies, business, and security forces, with varying success. As Africa has witnessed the rise of prominent women presidents such as Ellen Johnson Sirleaf of Liberia and Joyce Banda of Malawi, these women have also vowed to tackle corruption in their respective countries, yet faced many obstacles in doing so.
The Center for International Private Enterprise (CIPE) will host a panel discussion, The Weight of Corruption on Women Leaders in Africa, which will examine the vital role that women leaders in Africa can play – and the unique challenges they face – in combatting corruption in government and business. Our panel, including Dr. Joyce Banda, will share their insight on these issues, reflect on their experiences, and discuss how we can better equip our next generation of female leaders to overcome these obstacles and effectively combat corruption.
Opening Remarks:
Andrew Wilson, Executive Director, Center for International Private Enterprise
Speakers:
Dr. Joyce Banda, former President, Malawi
Emira Woods, Associate Fellow at the Institute for Policy Studies
Lars Benson, Regional Director for Africa, Center for International Private Enterprise (discussion moderator)
Watch Video in full here:
Speaker Bios:
Andrew Wilson is the Executive Director of the Center for International Private Enterprise (CIPE) in Washington, DC. Prior to assuming the role as head of the organization, Wilson was Deputy Director for Strategic Planning and Programs, where he oversaw staff efforts to develop and implement program strategies, coordinate internal proposal development, monitor knowledge management activities, and manage relationships with donors. Previously, he was the Regional Director for Europe, Eurasia, and South Asia at CIPE, where he directed grant and technical assistance programs to the aforementioned regions and coordinated CIPE's corporate governance efforts across the globe. Working with CIPE he has extensive experience in dealing with private sector development issues in conflict and post-conflict settings, crafting successful business strategies to reduce corruption, encouraging entrepreneurship development, strengthening business advocacy, and the promotion of economic reform. He is currently a co-chair of the Private Sector Council at the Open Government Partnership (OGP).
Dr. Joyce Banda is the former President of Malawi who served as the country's first female president. Dr. Banda is credited for turning round an ailing economy which was on the verge of collapse. She instituted a number of economic reforms which led to significant economic expansion. In the areas of democracy, good governance, and rule of law, President Banda repealed a number of draconian laws which had weakened essential democratic institutions, infringed upon civil liberties, and restricted the freedom of the press. Dr. Banda's career began as an activist in the women's movement and advocate of female entrepreneurship, leading her to establish the National Association of Business Women in Malawi and the Joyce Banda Foundation. Dr. Banda was named one of the world's most powerful black women by Forbes in 2013 and 2014, and one of the most 100 influential people in the world by both TIME and Forbes. In 2014, CNN named her one of the most inspirational women in politics. Since leaving office, Dr. Banda has continued her work with the Joyce Banda Foundation and is a leading proponent for gender equality and ending corruption. She has also served as a Distinguished Fellow with the Woodrow Wilson Center and Center for Global Development.
Emira Woods is a consultant, strategist, researcher, and advocate specializing in international development, social impact and innovation. Emira is an Associate Fellow at the Institute for Policy Studies, a trustee of the Wallace Global Fund and a board member of Action Aid International. She serves on the International Working Group for Africans Rising, a network of Africa's social movements working to build peace, seek justice, and manifest our dignity. Emira worked 8 years as Africa Program Officer at Oxfam America, 4 Years as InterAction's Manager of Development Policy and Practice. She also worked recently as Director of Social Impact and Innovation at the technology firm ThoughtWorks.
Lars Benson (discussion moderator) is Regional Director for Africa at the Center for International Private Enterprise (CIPE) in Washington, DC. He works closely with partners representing the private sector, civil society, and government to implement policy and regulatory reforms, enhance anti-corruption initiatives, engage in public-private dialogue, and improve democratic governance across the continent. Prior to joining CIPE, Benson served as the country director assisting small and medium enterprises to provide services and products to the oil industry in Angola. He also led an economic development and private enterprise program in Azerbaijan and worked on numerous World Bank, USAID, and State Department projects in Africa, the Middle East, and Central Asia. In the private sector, Benson served as a regional sales manager for a U.S. manufacturer of electronic repair equipment and was responsible for sales and marketing in Latin America, Europe, and the Middle East. He also spent a number of years working for U.S. Broadcast News organizations and served as the NBC News office manager in Kuwait. He has an MBA from the University of Maryland and a Bachelor of Arts from Tufts University.
Location
Center for International Private Enterprise
1211 Connecticut Avenue NW
Washington, DC