The Third Annual Free Enterprise & Democracy Network Conference
Wednesday, September 27 | 8:00 AM – 1:00 PM ET
Thursday, September 28 | 8:30 AM – 12:30 PM ET
The FEDN Secretariat at CIPE is pleased to host "Voices of Change: Making the Case for Democracy and Markets," a multifaceted event that brings together thought leaders, experts, and advocates to delve into the pivotal intersections of free enterprise, democracy, and technology's transformative influence.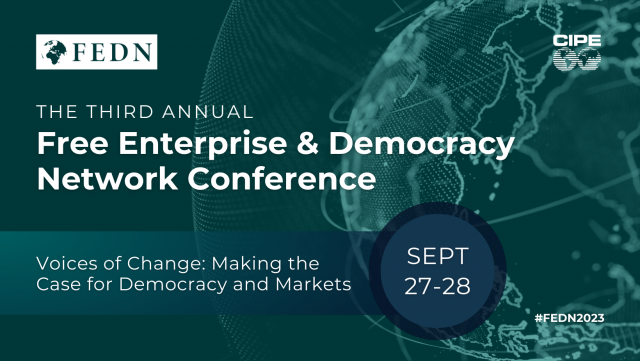 This third annual conference of the Free Enterprise & Democracy Network will take place over two days, September 27th and 28th. Private sessions of the Network and invited guests will unfold on day one, while the full public event — highlighting international and local engagement as well as the technological lens shaping democratic narratives — will captivate audiences on day two.

In an era of evolving global challenges and opportunities, the delicate balance between free enterprise, democracy, and the underscoring role of the digital realm has never been more significant. This conference will examine the profound impact of these concepts on society, economics, governance, and individual freedoms. We invite you to join us in this enlightening and engaging convening.