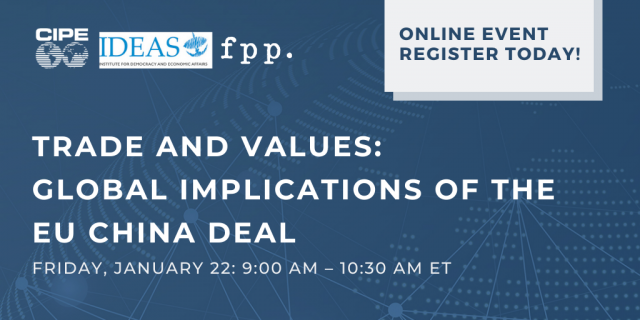 In recent months, China has established new trade agreements with governments all over the globe. The EU-China Comprehensive Investment Agreement (CAI), the Regional Comprehensive Economic Partnership (RCEP) in the Asia-Pacific, and enhanced bilateral trade agreements in Latin America will provide Chinese firms with unprecedented access to economies in each of these regions while offering promises of reform and access to the vast Chinese market. Beyond trade in goods and services, these agreements will have significant implications on standards-setting, business ethics, and the adherence to democratic values in each region.
Please join CIPE and its partners from Europe, the Asia-Pacific, and Latin America for a discussion on China's new trade agreements and their impact on regional investment flows, global supply chains, human rights, and democracy.
Moderator:
Eric Hontz – Center for International Private Enterprise (CIPE)
Speakers:
Laurence Todd – Institute for Democracy and Economic Affairs (IDEAS)
Sascha Hannig – Fundación para el Progreso (FPP)
José Raúl Perales – Center for International Private Enterprise (CIPE)
Bios:
Eric Hontz is the Deputy Regional Director for Europe & Eurasia at CIPE. He leads CIPE's work on Corrosive Capital and is actively developing CIPE's thought leadership on Constructive Capital, initiatives that sit at the confluence of corporate governance, anti-corruption compliance, the rule of law, and the business and investment climate, with patterns of trade and investment worldwide. Hontz is active in developing the capacity of business organizations in the region to advocate on behalf of member interests and helping these organizations to foster a culture of business growth. In prior roles, Hontz was an associate at a law firm and a vice president at an investment bank, where he reviewed complex alternative investment products.
Laurence Todd is a Director at IDEAS, working closely with the CEO to manage the research program, and overseeing relations with government and industry. Laurence has previously served in a number of roles in the British government, including in the Ministry of Defence and Her Majesty's Treasury where Laurence managed policy and analysis relating to migration. Laurence worked for 3 years in 10 Downing Street as an adviser to former British Prime Minister David Cameron, providing policy advice on foreign affairs, European policy, and trade. Laurence received a First Class Honours in Philosophy from the University of Bristol.
Sascha Hannig is a Chilean journalist, researcher and author with experience as a financial reporter. She currently researches for FPP Chile and is the Global Programs Coordinator for the same institution. Her main fields of study are China's influence in the globe and science and technology in society, having published several articles on these topics. Hannig has a master's degree from the University Adolfo Ibáñez and a minor in Asian Economy and History. She is also a published fiction novelist.
José Raúl Perales is Deputy Director of the Global Alliance for Trade Facilitation. He oversees a team of experts involved in the design and implementation of all in-country projects and serves on the management team of the Alliance. Prior to joining CIPE, Perales served as the Assistant Secretary for the Private Sector at the U.S. Department of Homeland Security. In this role, Perales advised the Secretary on the impact of the Department's policies, regulations, and processes on private sector companies, universities, and not-for-profit institutions and enhanced strategic communications in order to help the public and private sectors jointly meet their shared responsibility for homeland security.