About the Event
The Center for International Private Enterprise (CIPE) launched the Corruption Risk Forecast (CRF), a next-generation corruption analysis tool that is rooted in facts and not perceptions. Consolidating a vast array of granular public data, the Forecast provides risk analysis and predictive tools for a variety of global actors, including business strategy analysts, investors, anti-corruption watchdogs, and development organizations.
At the April 12 launch event, CIPE presented the Forecast together with its creator, esteemed anti-corruption scholar Alina Mungiu-Pippidi. Mungiu-Pippidi has revolutionized the world's understanding of corruption by framing it as the equilibrium between corruption opportunities and constraints. The Forecast reflects this view of corruption, capturing the state of equilibrium on a country-by-country basis. Featuring a global dashboard with data from over 120 countries, users can analyze corruption from multiple dimensions — from public transparency to judicial independence to press freedoms — and prepare for the future using a first-of-its-kind corruption forecast derived from both long-term trends and the latest political events.
At the launch, Mungiu-Pippidi provided a comprehensive overview of the Forecast and discuss its first findings. Attendees also heard from business and anti-corruption leaders as they discussed potential uses of the Forecast, including how investors who are sensitive to corruption risk can encourage emerging markets to curb corruption.
About the Speakers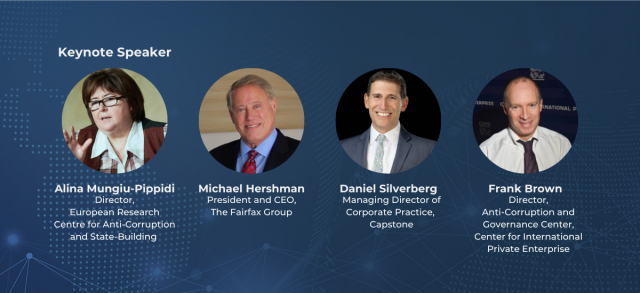 For questions about the event, please contact Kai Bernier-Chen at kbernier-chen@cipe.org