Aligned with the goals of the second Summit for Democracy — co-hosted by the Government of Zambia, the United States of America, Costa Rica and the Republic of Korea on March 29 and March 30, 2023 — we are pleased to present a high-level panel on the role the private sector can play in supporting ongoing beneficial ownership transparency (BOT) reform efforts in Zambia. 
Beneficial Ownership Transparency is the public disclosure of who ultimately owns or controls companies, a key ingredient to mitigate corruption risks and create a level playing field for companies. 
The Center for Private International Enterprise (CIPE), Transparency International Zambia (TI-Z), Open Ownership (OO), the Extractive Industries Transparency Initiative Zambia (EITI-Zambia), the Extractive Industries Transparency Initiative (EITI), are cordially inviting you to a side event, organized in collaboration with the Patents and Registration Agency (PACRA), to discuss opportunities and challenges of BOT reform in Zambia focusing on the role the private sector can play.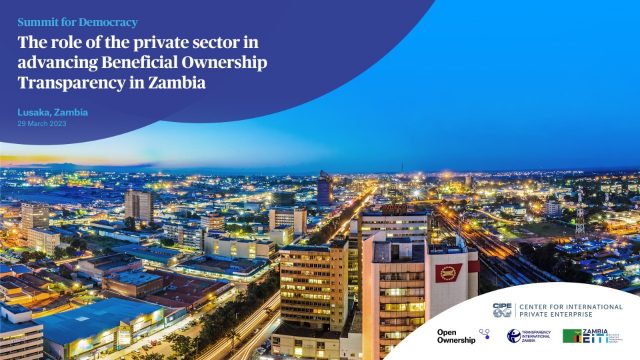 We are delighted to welcome as speakers: 
Mr Wilson Banda, Acting Registrar, Patents and Companies Registration Agency (PACRA)
Ms Pauline Mundia, Vice-President, Federation of Small-Scale Miners Association of Zambia (FESSMAZ)
Ms Sopani Muzumara, Coordinator-Proudly Zambian Campaign, Zambia Association of Manufacturers (ZAM)
Mr Reuben Lifuka, Vice Chair of Transparency International (TI-International)

 
Key discussion points will include: 
The state of beneficial ownership transparency reform in Zambia, why it matters and envisioned next steps.
The role of the private sector in the reform efforts, including opportunities and challenges
The perspective by civil society and steps to advance the conversation

 
Moderating the event will be Mr. Mutale Mukuka, Country Representative of Open Ownership. 
Welcoming remarks will be delivered by Mr. Johannes Tonn, Senior Anti-Corruption Advisor at the Center for International Private Enterprise. 
The event will take place on Wednesday, March 29 from 17:00 – 20:00 GMT+2 at the Taj Pamodzi Lusaka. The event will be followed by light refreshments for participants to continue the discussion. 
The event will be live-streamed. CLICK HERE