About the Event
The Papua New Guinea Business Advocacy Network (BAN) and the Center for International Private Enterprise (CIPE) host a panel to launch the first PNG Women's Business Agenda (WBA). This report presents recommendations for strategic action and policy reform to address priority issues affecting women's social and economic participation in PNG. The recommendations in the WBA have been identified through rigorous consultation with technical experts both in the country and within the region. They are informed by evidence of successful regional and global actions to address women's participation and contributions to economic growth and development.
Women in PNG face systemic barriers to gender equality, both socially and economically. To advance women's empowerment in PNG, CIPE is working with business leaders to advocate for regulatory reforms that promote women's participation in the economy. CIPE shared its proven Women's Business Agenda (WBA, or "business agenda") model with private sector stakeholders to push for lasting change. Women's business associations and networks in countries around the world have used WBAs to level the playing field and create new opportunities for women in business.
Local businesspeople, activists, and other private sector stakeholders in PNG have formed a coalition to launch a business agenda. Based on a set of recommendations generated through the November 2019 PNG Women's Forum, this coalition has worked with members of the business community in PNG to develop proposed policy solutions for pressing economic issues.  In 2020 the PNG Business Advocacy Network (BAN) was established and nominated seven members from the coalition to serve as the inaugural Steering Committee (SC). The BAN coalition will release a list of priority reforms to the public and will advocate to policymakers for these policy recommendations.
About the Speakers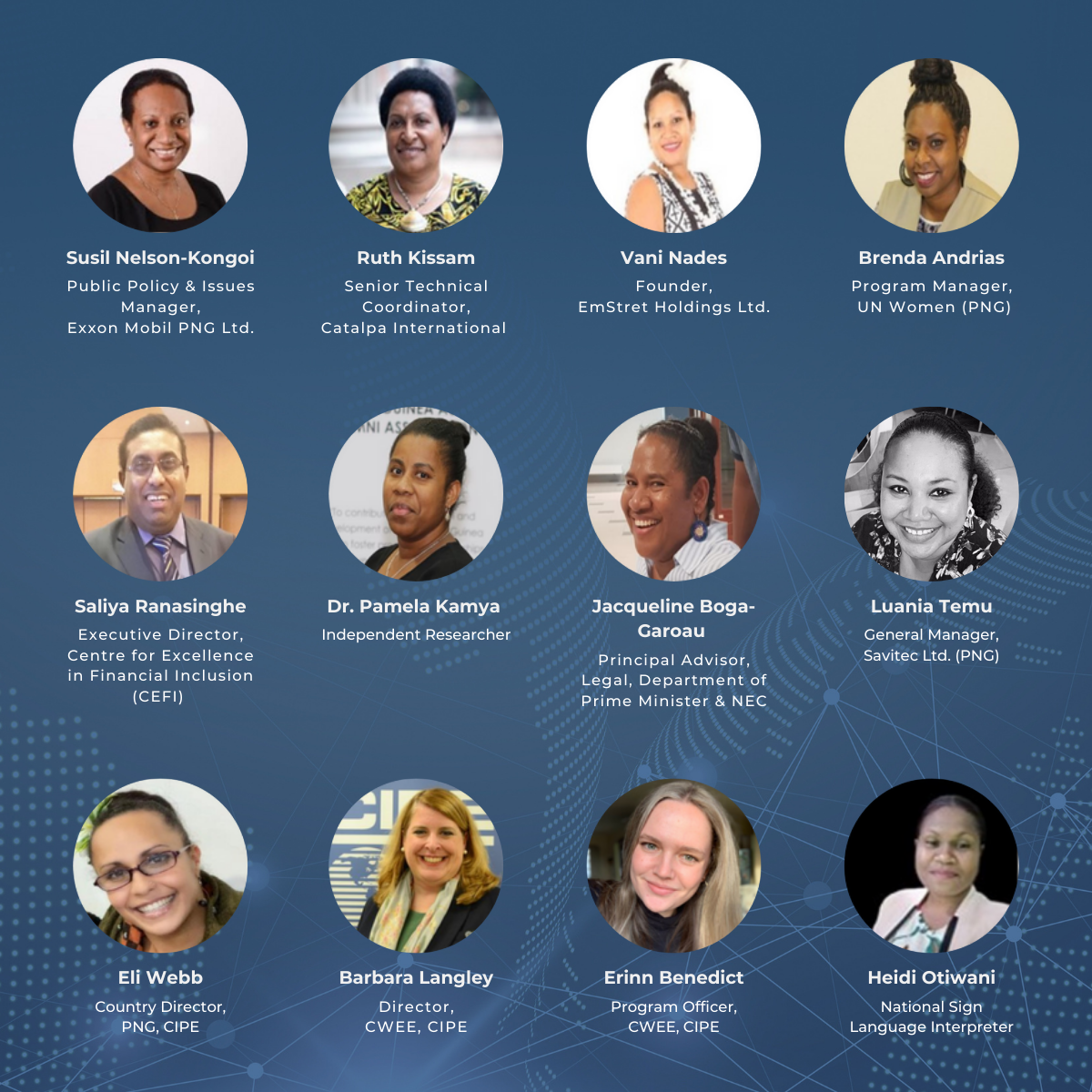 Ruth Kissam is a self-described 'Passionate Papua New Guinean,' Ruth is known in PNG as a champion of change and human rights defender. Throughout her life and career Ruth has been committed to using her education, leadership positions, and voice to represent those who do not experience the same opportunities as she has had.
In 2016 Ruth joined PNG Tribal Foundation as Director of operations. The Tribal Foundation is a non-profit organization that works in areas of maternal and child health, education, and gender-based violence. She led the Senisim Pasin (Change Behaviour) film campaign, a national campaign to change cultural attitudes about how women are valued in PNG. In 2021, Ruth then joined Catalpa International, an international development organization working in PNG, that aims to use technology to create lasting developmental impact.
In 2021, Kissam was appointed President of the Board of the Advancing PNG Women Leadership Network (APNGWLN) and a committee member of the PNG National Human Rights Commission.

Susil Nelson-Kongoi works as a senior executive with ExxonMobil PNG as Public Policy & Issues Manager responsible for external relations. She has over 15 years experience in the development and professional services sector. Her experience covers a wide range of roles including financial auditing & advisory services, strategic business planning, project management, monitoring & evaluation, and public policy advocacy.
Susil is the current Vice President (International) of the Business Council of PNG an organisation that represents the private sector in PNG across all sectors, promoting the importance and role of economic growth, freedom, and enterprise. Susil is also the Chair of The Incentive Fund, a PNG-Australia Partnership initiative, providing high-performing organisations with grants to improve service delivery and/or provide economic opportunities for the people of PNG.
She is also involved with various non-profit organisations. Susil is an active member of the Business and Professional Women's Association, focusing on building a strong network for women and supporting educational opportunities for women and girls in PNG. Her other roles include Honorary Treasurer on the Board of Coalition For Change, which is a local organization dedicated to achieving cultural change in PNG, where violence especially spousal violence and violence against children is not tolerated and the rights of women and children are respected. Susil has a Bachelor of Commerce degree, from Canterbury University, New Zealand. She also holds a Masters of Business Administration from Divine Word University, Papua New Guinea.

Vani Nades is an emerging female leader already making significant contributions in the business community and PNG as a nation. She has been in the education sector for almost 20 years, however, beyond her commitment to improving this space, Vani has also demonstrated a passion for making a difference in the community and giving hope to many people around her. Vani's previous leadership experience in an academic institution contributes to her potential for increasing access to business skills and economic opportunities for her fellow Papua New Guineans.
Vani is also an entrepreneur having founded Emstret Holdings Limited in 2014, a licensed Internet Service Provider in Papua New Guinea, focused on bringing access to rural schools and communities. She also runs a charity arm of the company called 'Voices for Villages' which aims to impact communities through education, health, clean water, and solar solutions. Vani recognizes the challenges of being a female in PNG but continues to overcome the odds and shine through via her successes in innovation and entrepreneurship.

Brenda  Andrias is the Program Manager of UN Women's Safe and Prosperous Districts Program and the Market's Economic Recovery and Inclusion Program, both funded through the Australian Government Depart for Foreign Affairs and Trade (DFAT).
She has been working in this role for over two years, looking into ways of promoting women's livelihood activities through safe and economically vibrant market environments.  She completed a Master's in Public Policy from the RMIT University in Melbourne. Her areas of interest are in Gender Lens Investing and more specifically looking into the role of women in the Informal Economy.
Brenda is passionate about the informal economy because she sees the importance of this sector to the survival and livelihoods of ordinary people, especially women who make up 60 percent of informal economy workers in Papua New Guinea (PNG). In PNG, the informal economy contributes up to 12 billion PGK annually, however, is the most volatile operating environment with no insurance or safety nets to protect the workers. Urban and district markets form a very small part of the Informal Economy and through her work, Brenda looks at ways of improving how markets are operated and how women vendors are interacting in these market environments. She will be sharing her perspectives on the informal economy and some possible areas for investments to ensure that some of the most vulnerable groups of women who participate in this sector are protected from economic shocks.

Saliya Ranasinghe brings with him over 30 years of experience working in financial inclusion, banking, microfinance, renewable energy, and the development sector. Currently, Mr. Ranasinghe is Executive Director of CEFI. Mr. Ranasinghe holds a Master's in Management from University Lincoln UK, is a Fellow Member of Chartered Institute of Management Accountants – UK, and a Fellow member of the Fellow of the Society of Certified Management Accountants (Sri Lanka). He is an Honorary Fellow of the Institute of Banking and Business Management (PNG).
Prior to joining CEFI, Mr. Ranasinghe worked with several Bilateral and Multilateral agencies such as the World Bank, Asian Development Bank (ADB), United Nations Capital Development Fund (UNCDF), Official Development Assistance (ODA) UK, and the Dutch Development Corporation as a Project design specialist, consultant, implementation team leader and a manager for development projects in the Asia Pacific regions.
He has lived in PNG for over 20 years.

Dr. Pamela Kamya has a PhD under the School of Science, Environment, and Engineering from the Southern Cross University in Australia. Pamela also holds a master's level background in Marine Science and Environmental Management and her contribution to research in marine tropical research and Climate Change was awarded the Southern Cross University's Vice Chancellors Award in 2018. Pamela has also published 4 journal articles from her research in world-renowned Scientific peer-review journals.
Previously a Director of Research and Publication in the Papua New Guinea Constitutional and Law Reform Commission, Pamela most recently occupied the Director role with the Family, Health, International 360, providing strategic direction and research that promotes gender awareness within rural communities around Papua New Guinea. A major component of the research assesses the impact of women's economic empowerment on exposure to gender-based violence in PNG
The Steering Committee (SC) and CIPE selected Dr. Pamela Kamya, who has extensive experience in gender-focused projects across PNG as the lead researcher and writer of the Business Advocacy Network (BAN) Women's Business Agenda (WBA).

Jacqueline Boga-Garoau holds a degree in Law and dual Master of Business Administration and Master of Conflict Management and Resolution degree from the James Cook University, in Queensland, Australia.
She is Principal Advisor, Legal in the Department of Prime Minister and NEC and the Interim Chairperson of the Women with Disabilities network which was established in June 2018. In December 2018 Jacqueline was selected as the Female Co-Chairperson for the PNG Assembly of Disabled Persons, to add to her other representative roles on the National Advisory Committee on Disability and on the Board of the Pacific Disability Forum.
She is keen to see that the Disability Authority bill is passed as Legislation and that subsequent amendments are made to the respective legislation to make rights real for persons with Disability. Jacqueline strongly believes that advocacy is key to influencing decision makers to bring about change in policies, legislation, practices and infrastructure in order to make rights real for persons with disability via collaborative efforts of the individuals, various government agencies and civil society. Finally, Jacqueline is married with three children.

Barbara Langley serves as Director for CIPE's Center for Women's Economic Empowerment (CWEE), democratizing opportunity for women by fostering ecosystems for entrepreneurship. In this capacity, she leads CIPE's strategy to amplify the voice of the private sector through women's equal participation in free markets and democratic institutions. Langley leads CWEE's strategic planning, new business development, regional integration, and leadership efforts at CIPE.
Prior to CIPE, Langley served for nearly 20 years at the International Republican Institute (IRI), holding temporary and long-term postings in Afghanistan, Bosnia and Herzegovina, Jordan, Mongolia, Romania, Serbia, Slovakia, and Washington, DC. She also held senior management positions as Executive Director for IRI's Arab Women's Leadership Program, Deputy Director for the Institute's Middle East and North Africa Division, and Deputy Director for IRI's Women's Democracy Network. Langley has also observed national and local elections in 11 countries in Asia, Eurasia, Europe, and the Middle East & North Africa. In addition to her experience in the democracy and governance field, Langley served in the Administration of President George W. Bush as Confidential Assistant in the Office of the Director of the U.S. Peace Corps.
Langley received a Bachelor of Arts degree in Russian and International Studies in 1996 from Millersville University of Pennsylvania and successfully completed the American University's Campaign Management School in May 2000. Langley is currently completing the U.S. Chamber of Commerce Foundation's Institute for Organization Management (IOM).

Eli Webb joined CIPE as the PNG Country Director in November 2015 to assist in rolling out a series of projects in CIPE's efforts towards building a stronger entrepreneurial foundation for the PNG community and advocate for the development and change in the Women's Economic Empowerment environment.
Prior to joining CIPE, Eli held a variety of roles ranging from 8 years with the Australian Government in the Human Services division and preceding that, a long stint in the Insurance field. Eli has previously been a local PNG Media personality in the music industry and successfully co-founded a small local NGO out of another one of the provinces, Lae, Morobe Province providing funding, counseling, and emergency accommodation for trauma patients of family and sexual violence.
In her spare time, Eli is an active participant on boards for other development partners and in the sporting space also. Eli has previously been a PNG national representative in squash, recently competing in the 2019 Pacific Games, 2015 Pacific Games, 2014 Commonwealth Games. To complement this Eli was the previous President of the PNG National Squash Federation for 10 years and a member of the National Athletes Commission Board, and finally, she is a mother of 3 children.

Erinn Benedict serves as a Program Officer for the Center for Women's Economic Empowerment (CWEE), where she manages a portfolio of projects geared toward enhancing women's economic opportunity around the globe. In her previous role at the organization, Benedict was the Associate Program Officer for Afghanistan and Turkey on the Middle East and North Africa team and supported projects related to women's economic empowerment, freedom of information, and anti-corruption.
Benedict leads the State Department's Democracy, Human Rights and Labor (DRL) portfolio, as well as the National Endowment for Democracy's South Asia Regional Network (RNBWO) for women's business associations, at CWEE.
Prior to CIPE, Benedict was a Project Assistant at the National Democratic Institute for the Central and Eastern Europe team where she assisted on democratic and political party strengthening initiatives.
Benedict holds a BA in International Relations from Boston University and a MSc in International Relations from the University of Edinburgh.
Heidi Otiwani is a certified National Sign Language Interpreter; she interprets both PNG and Melanesian Sign Language. Heidi currently sits as the Secretary for the PNG Deaf Association and works as an interpreter for the National News with the PNG National Broadcasting Corporation Network. She works to support and interpret for the PNG Deaf Rugby supports the Summer Institute of Linguistics in PNG by interpreting talking books for children.
Having been a sign language interpreter and translator for over 10 years, Heidi hopes to see that more Papua New Guineans can learn Sign Language, as it is the fourth National Language of PNG. Finally, Heidi is a mother of two and she enjoys cooking and sharing stories with her children in Sign language.
Location
Zoom & CIPE DC Facebook Live