About the Event
The Philippines has endured one of the world's longest COVID-19 lockdowns. The pandemic halted business operations, threatened livelihoods, and forced many enterprises to not only find ways to cope with a global health and economic crisis but also to adapt and shift their businesses models online or close permanently. Women's socio-economic lives were disproportionately affected with women accounting for more job losses while at the same time taking on additional household and care responsibilities, which often present barriers to women's economic participation.
Recognizing the immense potential of women entrepreneurs to capitalize on market opportunities and linkages, CIPE's Center for Women's Economic Empowerment (CWEE) supported Connected Women and Angat Bayi to enable women entrepreneurs and women-led MSMEs to improve their access to markets and new jobs, promote regional trade, and offer new avenues for financing while harnessing the benefits of the digital economy, which has increasingly become integral to economic resilience.
As women entrepreneurs break ground in addressing significant challenges in digitalizing their operations and reaping the full benefits of the digital economy, CIPE continues to provide solutions and tools to support growth of business through online skills training, including upskilling and reskilling, and strengthening digital literacy.
Recognizing this need, CIPE and Layertech Software Labs Inc. developed "Harnessing the Power of the Digital Economy!" This interactive online course is designed to support small businesses and entrepreneurs as they seek to securely and effectively engage in digital commerce. Participants will be able to use digital tools and platforms to support their businesses' engagement in e-commerce, including e-payment, delivery, and logistics platforms.
The Manila forum will consist of a two-part webinar featuring two important CIPE resources and programs on Women Economic Empowerment and Harnessing Power of Digital Economy. This Asia-focused event is part of CIPE's global launch of the new resource during Global Entrepreneurship Week and will underscore the importance of an inclusive digital economy to economic recovery with innovative, grassroots solutions aimed at supporting women and women-led MSMEs, amidst the challenges of the pandemic.
About the Speakers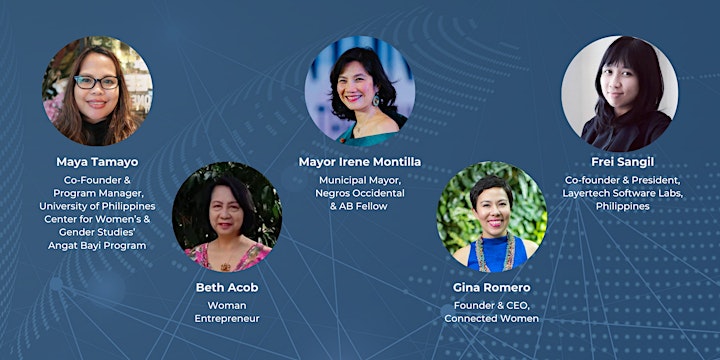 Maya Tamayo is the co-founder of Angat Bayi [Uplift Women], a groundbreaking program in the Philippines aimed at promoting women's entry into politics. She also co-founded the Feminist Legal Network. Maya is also a proficient feminist researcher and trainer. She is an awardee of the Connections Through Culture – Arts and Creative Economy Research Grant by the British Council in the UK and East Asia. She was selected as part of the first cohort of the Women Together for a Better Normal program by Ashoka and the S&P Global Foundation in 2020 and a fellow of the recently concluded 2021 VVEngage Fellowship Program of the Vital Voices Global Partnership. Currently, she is a Fellow of the Global Governance Forum.
Rafaella Potestades works as a Gender Consultant and is a graduate student of the Master of Arts in the Women and Development Program of the University of the Philippines Diliman. Currently, she is part of various gender and development programs such as Angat Bayi and Oxfam's SHE Project, and research studies funded by the European Union, Humanitarian Advisory Group, and British Council. Her published works and research interests center around language and gender, mainstreaming gender concerns in education, and queer linguistics.
Mayor Irene Montilla is a mother of three boys and a doctor by profession, having specialized in Internal Medicine. She is a first-time Mayor of the Municipality of Isabela Negros Occidental. Irene loves to learn and is excited at the prospect of meeting and interacting with the knowledgeable people of the Angat Bayi program. The intricacies of Gender and Development are one that she is excited to discover more about and how she can incorporate this in her projects and programs.
Beth Acob is a 64-year-old entrepreneur from Old Centro Proper, San Mateo, Isabela. She is a BSEED (Bachelor of Science in Elementary Education) graduate and taught in school for 10 years. She previously worked as a domestic helper in Hong Kong for 13 years. She was Rural Improvement Club (RIC) President in her barangay for 10 years, RIC Federation President in her municipality for 4 years and a small entrepreneur engaged on Bignay wine making and ornamental plant production.
Gina Romero is the co-founder and CEO of Connected Women, a social impact tech startup that matches talented Filipino women with meaningful remote work opportunities. She was a founding member of The Athena Network (UK) women's business network in 2005 and went on to be the Operations Director in 2008. Gina launched Connected Women (Singapore) in 2013 and the Connected Women Magazine in 2014. In 2016 she set her heart on helping Filipino women and moved to the Philippines and co-founded Connected Women Jobs. In October 2020, Gina was awarded as a Finalist of the prestigious "Asia CEO Awards" in the Shero of the Year category.
Frei Sangil is a Data Science Lead native to the Philippines. Ms. Sangil is the Co-founder and President of Layertech Software Labs, Inc. She also works as Chief Information Officer of Ignyte Innovations Lab, Inc., a non-profit organization that aims to solve society's problems with the help of Innovation, Science and Technology, where she acts as the company's key decision maker for technology and innovations projects. At Ignyte, Ms. Sangil was the project lead and chief systems designer of project Balangay, a cloud information system for natural disaster preparation. Most recently, Ms. Sangil served as a Data and Analytics Consultant for "Cybersafe PH", leading the design of an endpoint game software called "What Happened To?", which securely and ethically collects data.
Mahalia Mabini is an entrepreneur from Daraga, Albay, Philippines. She owns a small farm and poultry in Albay and is a member of the Albay Chamber of Commerce and Industry. She previously worked as a Staff Administrative at the Southern Luzon Technological College for 11 years.
About the Center for International Private Enterprise (CIPE)
The Center for International Private Enterprise (CIPE) strengthens democracy around the globe through private enterprise and market-oriented reform. CIPE is one of the four core institutes of the National Endowment for Democracy and an affiliate of the U.S. Chamber of Commerce. Since 1983, CIPE has worked with business leaders, policymakers, and civil society to build the institutions vital to a democratic society. CIPE's key program areas include enterprise ecosystems, democratic governance, business advocacy, anti-corruption & ethics, and trade, with the inclusion of people representing all economic strata, political affiliations, genders, and ethnic and religious backgrounds serving as a core organizational value.
CIPE's Representative Office in the Philippines serves a strategic hub for CIPE's programming activities in Asia-Pacific. As a hub, CIPE Philippines fosters knowledge sharing, project management, thought leadership and stakeholder cooperation to respond to emerging democracy landscape in the region. More specifically, CIPE Philippines supports CIPE's thematic work on areas such as women economic empowerment, anti-corruption and governance, trade facilitation, ethical and responsible investments, infrastructure and procurement transparency, freedom of information, gender diversity and inclusion, association strengthening and digital economy.
CIPE envisions its Philippines office will shepherd resource sharing among its networks in Asia-Pacific to support coalition building, and in-country and joint regional advocacy, thereby enabling country-specific actors to become leading regional voices for market reform and private sector development.
The Center for Women's Economic Empowerment (CWEE) empowers women to overcome economic inequality and lead private sector engagement, entrepreneurial ventures, and partnerships. CWEE strengthens community and global networks of women to advocate for democratic reforms, facilitating more resilient and inclusive economies. Founded within the CIPE, CWEE consolidates nearly four decades of experience to promote women's leadership and improve their economic conditions through private sector engagement, advocacy, and partnerships with governments and civil society. CWEE supports CIPE's network of partners in more than 80 countries.
Location
Zoom & CIPE DC Facebook Live