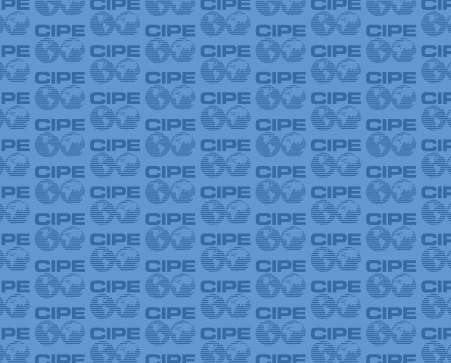 The Center for International Private Enterprise and their Consortium partners held the launch of a new project: Livelihoods Innovation through Food Entrepreneurship (LIFE).
The Syrian refugee conflict has forced five million people to seek refuge in neighboring countries and more than one million to seek asylum in Europe, placing enormous strains on host communities. Turkey sits at the epicenter of this global refugee crisis, with three million refugees within its borders. Durable, innovative solutions are required if the world hopes to manage the crisis in the long term.
Entrepreneurship, particularly in the food industry, holds tremendous potential as a sustainable source of livelihoods programming and catalyst for job creation. The LIFE project will focus on enhancing livelihoods among refugees and host communities in Turkey through food entrepreneurship.
Business casual attire. A Syrian lunch was provided by Foodhini.
Schedule:
11:00-11:15am
Welcoming Remarks
Abdulwahab Alkebsi, Deputy Director of Programs, CIPE
Ambassador Mark C. Storella, Deputy Assistant Secretary, Bureau of Population, Refugees and Migration, US Department of State
Kathleen O'Keefe, Co-Founder and Director of Events, Up Top Acres
11:15am-12:00pm 
Panel Discussion: Food-Based Entrepreneurship as a Key to Sustainable Livelihoods among Refugees and Host Communities
Abdulwahab Alkebsi, Deputy Director of Programs, CIPE (moderator)
Cullen Gilchrist, CEO, Union Kitchen
Hans-Joachim Hogrefe, Director of Policy and Advocacy, Refugees International
Ayman Tabbaa, Chairman, Syrian Economic Forum
Guler Altinsoy, Founder and CEO, International Development Management (IDEMA)
12:00-1:00pm
Lunch with Moderated Discussion: Gastrodiplomacy – a cultural exchange around the kitchen table
Dr. Johanna Mendelson Forman, Distinguished Fellow, Stimson Center (moderator)
Lauren Bernstein, President, The Culinary Diplomacy Project
Yigal Shleifer, Founder and President, Culinary Backstreets
Philip Vang, Founder and CEO, Foodhini
Chef Majed, Foodhini
Funding for the LIFE Project in Turkey provided by the United States Government
Location
The Farm
55 M Street SE, rooftop
Washington, DC, 20003