About the Event
Women entrepreneurs in Papua New Guinea (PNG) face many complex challenges in setting up and growing their businesses due to various barriers such as gender inequality, lack of access to finance, and societal challenges such as poverty and illiteracy. Under the economic pressures of COVID-19 in particular, women entrepreneurs in PNG have faced dire threats to the survival of their businesses. In July 2020, the Center for International Private Enterprise (CIPE) released a survey report, "COVID-19's Arrival in PNG: Impacts on Women-Owned and -Operated MSMEs," which examined the impact of the global pandemic on 298 women entrepreneurs and their businesses. The survey findings revealed that the pandemic not only altered the business environment of PNG but also amplified acute difficulties faced by women-owned and –operated businesses. To better understand the environment under which these businesses are continuing to operate almost exactly one year following the release of the aforementioned survey report, CIPE commissioned another assessment to examine the ongoing impact of COVID-19 on 144 women-operated or -owned Micro, Small, and Medium-Sized Enterprises (MSMEs) in PNG.
CIPE hosted a panel on the impact of COVID-19 on PNG MSMEs. New survey results on the conditions of 144 PNG women-owned and -operated MSMEs from summer 2021 were shared with further insights from local MSME leaders. Additionally, discussions were held around a new business support service developed by CIPE that will be offered to women entrepreneurs across PNG.
Sign language interpretation available.
About the Speakers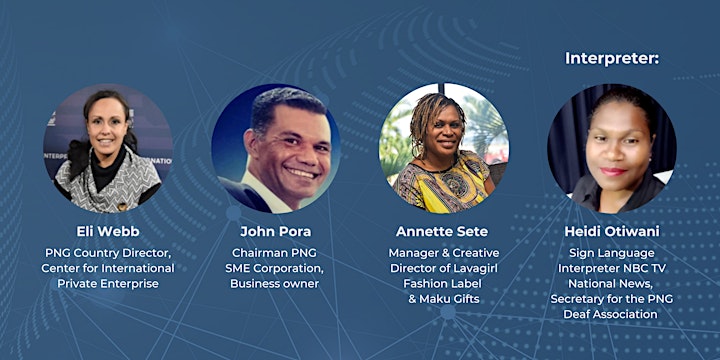 Eli Webb — PNG Country Director, Center for International Private Enterprise
Eli joined CIPE as the PNG Country Director in November 2015 to assist in rolling out a series of projects in CIPE's efforts towards building a stronger entrepreneurial foundation for the PNG community and advocate for the development and change in the Women's Economic Empowerment environment.
Prior to joining CIPE, Eli held a variety of roles ranging from 8 years with the Australian Government in the Human Services division and preceding that, a long stint in the Insurance field. Eli has previously been a local PNG Media personality in the music industry, and successfully co-founded a small local NGO out of another one of the provinces, Lae, Morobe Province providing funding, counselling and emergency accommodation for trauma patients of family and sexual violence.
In her spare time Eli is an active participant on boards for other development partners and in the sporting space also. Eli has previously been a PNG national representative in squash, recently competing in the 2019 Pacific Games, 2015 Pacific Games, 2014 Commonwealth Games. To complement this, Eli was the previous President of the PNG National Squash Federation for 10 years and a member of the National Athletes Commission Board, and finally she is a mother of 3 children.
John Pora — Chairman PNG SME Corporation, Business owner
John is an accomplished business development leader with over 25 years of experience working in over 14 Provinces of PNG, across 7 sectors of our value chain and recognised as one of the pioneers of e-commerce in Papua New Guinea. He currently sits as the Executive Director for Interactively Marketing IT; Director for Dobel Farming & Trading Ltd; Director for Niugene PNG Ltd, Founder and President for the PNG ICT SME Development Program and in November 2020 joined the PNG Small to Medium Enterprise Corporation as Chairman.
Annette Sete — Manager & Creative Director of Lavagirl Fashion Label & Maku Gifts
Annette is a woman entrepreneur from PNG with over 6 years running businesses, with experiences in Media, sales and marketing, tourism and fashion design. She is currently the Director of Maku Gifts and owner of Lavagirl Brand, as well as The Marketing Champ, a marketing consultancy that supports all marketing for these brands. She runs all her businesses from her home living room in Kokopo, which includes managing 4 brick and mortar shops, an online shop, a busy production unit and over 50 staff.
Heidi Otiwani — Sign Language Interpreter NBC TV National News, Secretary for the PNG Deaf Association
Heidi is a certified National Sign Language Interpreter; she interprets both PNG and Melanesian Sign Language. She currently sits as the Secretary for the PNG Deaf Association. Heidi works as an interpreter for the National News with the NBC. She works to support and interpret for the PNG Deaf Rugby. Heidi also works with SIL to interpret talking books for children.
Being a sign language interpreter for more than 10 years, Heidi hopes to see that more Papua New Guineans can learn Sign Language, as it the fourth National Language of PNG. Heidi is a mother of two and she enjoys cooking and sharing stories with her children in Sign language.
Location
Zoom & CIPE DC Facebook Live