Reconstructing Ukraine's Economy: Insights from the EBRD
Experts say it can be done, but what will it take to revitalize Ukraine's economy amidst conflict? Dimitar Bogov of the European Bank for Reconstruction and Development discusses recovery strategies, investment climate reforms, and long-term growth prospects.
---
Subscribe to the podcast on iTunes or your Android device.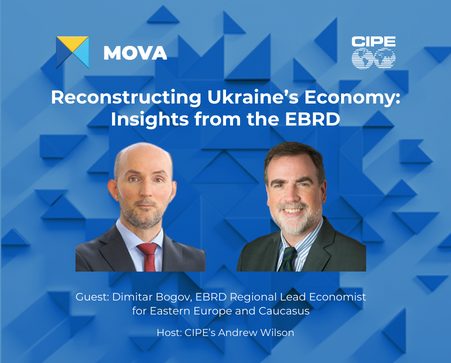 Like this podcast? Please review us on iTunes.
MOVA: The Business Language for the New Ukraine is a new podcast series hosted by Andrew Wilson, CIPE's executive director. The series is a part of CIPE's Democracy that Delivers podcast.
Transcripts are available in English below.
---
Reconstructing Ukraine's Economy: Insights from the EBRD (English Transcript)
Andrew Wilson:
It's hard to understate just how much money it's going to take to rebuild Ukraine. Economists have said it'll take anywhere from $400 billion to $1 trillion dollars to recover from the war. One key part of securing that aid will be convincing investors that Ukraine is ready to start a new era of openness and transparency.
Dimitar Bogov:
Reforms in these areas of anti-corruption and the judiciary — they can succeed only if there is willingness and critical mass in the country. And hopefully we see that this momentum is changing.
Andrew Wilson:
Can Ukraine use the current crisis as a catalyst for hitting the reset button on its business practices? That's just ahead. Welcome to MOVA, the business language for the new Ukraine. A podcast from the Center for International Private Enterprise, bringing together global thought leaders to discuss Ukraine's economy, policies and business outlook. I'm Andrew Wilson, executive director of CIPE. Our guest today is Dimitar Bogov, lead economist for Eastern Europe and the Caucuses at the European Bank for Reconstruction and Development. He's here today to share his expert perspective on Ukraine's economic challenges and opportunities. Hello, Dimitar, and welcome to the program.
Dimitar Bogov:
Hello, Andrew. Thank you for inviting me.
Andrew Wilson:
Yeah, our pleasure. Listen, in this series we're talking to a lot of people from around the world who are dealing with different perspectives on Ukraine's reconstruction and growth potential emerging from the conflict that's currently raging in the region. And the EBRD is certainly a key stakeholder in that process. The EBRD has been around since, my memory is in the mid '80s working in the region and has a vast wealth of experience working in these emerging economies. Can you tell us a little bit about the EBRD's key priorities and efforts to build and support the countries around it that are affected by the conflict? I know you've got a large reserve of funds dedicated to this, so I think it would help our listeners that they can understand where you're seeing your priorities right now.
Dimitar Bogov:
Yes, indeed. The EBRD is quite active in the region. It started operations at the beginning of '90s, so we have been there a little bit more than 30 years. And in Ukraine, we are probably the single biggest investor during this period. Immediately after the start of the Russian invasion of Ukraine, EBRD recognized the extraordinary moment and need for help to Ukraine. And not just to Ukraine, but also to some of the neighboring countries that were struggling under these extremely difficult circumstances. So from the very beginning, EBRD put in place together with donors a program to deliver around 3 billion euros in Ukraine in a two year period. And last year, we actually did 1.7 billion euros, which was an extraordinary result compared to the previous work we had done in Ukraine. Our average amount in the last five years before the war was around 1 billion euros, and this was significantly above it.
We made a program that was focused on supporting some urgent needs of the country. Some sectors that needed support were energy, logistics for understandable reasons, and also food security and trade finance. We supported not only Ukraine but also other neighboring countries, as I mentioned. One of them is Moldova, which is probably the second-hardest hit country by this war. And in Moldova, for example, last year we extended half a billion euros, just for illustration. This is around 4% of GDP of Moldova, it's a very small country, small GDP. And the usual amount that we lended to Moldova pre-war was 100 million euros. So we increased that amount five times, again in sectors like energy and logistics. And this logistics sector is also supportive of Ukrainian export because of the blockade of the black support.
Andrew Wilson:
Well, that's an incredible amount of cash you've managed to mobilize, especially in places like Moldova that I wonder how they could possibly absorb it. But I think that probably tells us more about the scale of the work that needs to be done more than anything else. When we think about the scale of all of this, the massive post-war reconstruction effort or even during current conflict, the reconstruction effort, maybe we should make a distinction between reconstructing things on the run versus post-conflict growth strategies and other things. But as we've heard from colleagues in the region, you never let a crisis go to waste. But I think the question is that there's a lot of options in front of Ukraine as it thinks through how it's going to modernize its economy out of the rubble, especially in areas that have been really hit by the war, and it really is. I mean, how can you see this as an opportunity in a sense to help modernize the Ukrainian economy? What can we do and how can we approach this that this effort is really not only just reconstructive, but really future oriented?
Dimitar Bogov:
Indeed, Andrew, you put it very nicely. This is obviously a tragedy with massive scale of destructions of human capital in the first place, but also physical infrastructure. Inevitably, there will be reconstruction after the war and this is a huge opportunity to rebuild Ukraine in a better way. And you remember there were a lot of talks also during the pandemic, and the mantra of building back better. This has very special meaning in the Ukrainian case for rebuilding after the war, and this really means to build a Ukraine that would be a modern economy and a modern democracy. This means that Ukraine should be built in a better way. It should have better infrastructure. So pursuing sustainable investments, rebuilding destroyed Soviet style cities into green cities, then building clean industries based on knowledge and technology. And also upgrading public institutions in Ukraine.
This means also rebuilding in terms of social cohesion: a new social contract in the country, with inclusion in the full sense of the meaning of inclusion because there will be a lot of single parents, a lot of disabled persons, and a lot of veterans. They should be involved in the new economy and the new life and new society in Ukraine. And not to forget, Ukraine recently won the prospects of EU membership, so certainly, last but not least, Ukraine should also harmonize legislation and policies with the EU standards. And this should be one of the issues for rebuilding Ukraine as a modern democracy.
Andrew Wilson:
I think for those of us who've been engaged in first perhaps the economic transition that occurred in the former Soviet states and in central and Eastern Europe after the fall of the war, but also as part of the vision that you've just laid out in terms of the EBRD's priorities and the EBRD's, I think outstanding track record and understanding the nature of reform and investment, and the linkages really between the institutional environment in a country and the success of investment that has to come from that and understanding that for Ukraine's future, investment is not just going to be a matter of foreign investment, but also generating what domestic reserves that might exist in the private sector for the reconstruction effort. From your experience in working in these regions and working in economies that have made the transition successfully, what are the institutional reforms that we need to think about in terms of creating this transparent level playing field that's going to encourage people to put money into their own economy and then to attract investment because we know that that's going to be a key priority of the Ukrainian government moving forward.
Dimitar Bogov:
Indeed, we need the private sector to be on board in the reconstruction because the amount needed to rebuild Ukraine is enormous. Just a reminder that in February, the World Bank-led analysis of rapid damage needs assessment came out with $411 billion needed for rebuilding Ukraine in a better way, and this is a huge amount. Certainly we need the partnership of the Ukrainian government, international partners and donors, but also the private sector. Private sector investments will be crucial. And if you look at the structure of what is needed there based on, again, this World Bank assessment, 20 percent is in the commercial sector and definitely that should come from the private sector. Forty percen is in infrastructure, mostly transport and energy. Yes, for public sector investments international partners will play a role here, but also the private sector has a role in energy and transport. And in order to encourage the private sector, certainly we need some encouragement and this encouragement means first security because we don't know what the situation will be after the war and whether we will have durable sustainable peace or not.
So security is important, and insurance for private investments, but also, knowing the situation before the war in Ukraine, with the judiciary and corruption, as you mentioned, a level playing field is the key here. We all need to work together to ensure there will be a level playing field and full protection of property rights. So reforms and the judiciary and anti-corruption efforts are crucial here. Procurement practices as well because we wanted to have many players involved in a transparent way. So all this is quite important and the work in all these areas probably should start even during the war in order to be ready when the war is over to have a running start in all these areas and to attract more private sector involvement.
Andrew Wilson:
Yeah, it strikes me that a key part of the social contract that you were referring to earlier is this prioritization of work on anti-corruption and sort of changing the nature of the relationship between business and the state, the state and business, but also between the individuals in the state and this issue of trust. And I think one thing we've heard from our partners in civil society and in the private sector in Ukraine is that the war has offered sort of a brief moment, if you will, of common purpose out of necessity, which I think lays the groundwork for solid anti-corruption work. You mentioned public procurement, judicial reform and some of these other areas. With what you're seeing on the ground, does that concur with what we're hearing from our partners in the right atmosphere being in place, and what can the EBRD do to encourage perhaps some of these reforms in the anti-corruption sphere to be prioritized?
Dimitar Bogov:
We were present in this area even before the war together with other international institutions, and a lot has been done before the war. Of course, there were a lot of hiccups, and still there is huge room for improvement. But what we see is that in extremely difficult circumstances during the war, there are some reforms going on. And this as you mentioned, and as you noticed very well, a united perception that really such practices of the past cannot be tolerated, especially when the whole country, and all its individuals are making enormous sacrifices. And this means that the tolerance for corruption, and the tolerance for waste, will be much lower after the war than it was before the war.
And this new social contract actually could play the key role because there are a lot of support and a lot of efforts from international partners of Ukraine, however, reforms in the areas of anti-corruption and the judiciary can succeed only if there is willingness and critical mass in the country. And hopefully we see that this momentum is changing. We see that now in these difficult circumstances. There are some reforms going on in these two areas, reforms that first started before but were not completed. Now they're being completed and we hope that after the war, there will be a stronger stimulus to this reform momentum in these critical areas.
Andrew Wilson:
Yeah. One of the areas you touched on very briefly, one of your earlier comments was the observation that the diaspora that has occurred because of the war, the refugee populations have left the country. And it's very interesting to note frankly that a lot of them have started their own businesses. They've become entrepreneurs out of necessity in places like Poland. And we've seen statistics out of Poland. I think that something approaching 70% of new business registrations in Poland last year were actually Ukrainians establishing their own enterprises to help them through their current challenges. But to me that is on the one hand something that can be a great benefit to the Ukrainian economy, where you've created this group of people who have an entrepreneurial aspect. But the question remains once they've established a livelihood, once they've established a business elsewhere and are frankly living in the EU ahead of maybe their fellow countrymen, how do we convince people that returning to Ukraine is going to be a decision worth making moving forward? How do we create those incentive systems for folks to return?
Dimitar Bogov:
Yes, this is the crucial issue. Rebuilding the physical human capital is probably the most important factor for a successful rebuilding of Ukraine. And currently, 15% of pre-war population is relocated abroad. Actually, 20% is relocated abroad, and around 15% is displaced within the country. And the longer the war lasts, these more people will establish roots in another country, so it'll be difficult to return them. And the key here would be how to incentivize them to return to Ukraine and to contribute to rebuilding Ukraine. Obviously they have to see dynamism; they have to see opportunities in the country. Therefore, slow reconstruction is not an option. There has to be a very strong momentum from the very beginning and very strong reconstruction efforts. There has to be a virtuous circle, and this needs a lot of investments in different areas. So to create conditions for people to live, to rebuild infrastructure, to rebuild social infrastructure, to rebuild social services, to rebuild housing, and to start economic activity in order to open jobs.
And all this is connected. If there are jobs, people would return. If people return, there'll be more demand. So there will be more economic activity. There'll be more money in the budget, so more investments. So a rigorous circle has to be created from the very beginning, therefore, as I said, and they will repeat, slow reconstruction efforts is not an option at all. Recovery must be very strong from the very beginning in order to create positive momentum, positive stories. And this will attract people to return if they see a really transparent and level playing field. Then all these people that you mentioned that created businesses in Poland and other countries would also see opportunity in Ukraine and they would be the driving force of these rebuilding efforts.
Andrew Wilson:
For good or for ill, I've been involved in a number of countries where post-war reconstruction has taken place from the Balkans through to Afghanistan, and the question of where to make investments in the private sector or where to encourage investment in the private sector always comes to the fore. And obviously, major reconstruction and infrastructure projects have to occur, that requires large scale construction, large scale investment as you pointed out in areas like energy and other places. But we also know from experience, particularly when we look at the transitions that occurred in Europe and Eurasia over the years, that the small and medium enterprise sector is a vital engine for growth and a sustainable engine for growth over the long term.
We're not seeing obviously a lot of focus on that right now, but I think our conversation is sort of pointed out that those possibilities are there. How do you think those engaged in visioning Ukraine's future can start taking on board the potential role of the small and medium enterprise sector? Perhaps the mediums more than the smalls, but how can we start conceptualizing what that will look like and how do we start thinking about this now when we start prioritizing where we make investments or where we put our efforts in terms of a business environment or other things?
Dimitar Bogov:
Yes, it would be very important to actually build a very strong SME sector in Ukraine. And not just for itself, but by having a strong SME sector, there's a chance to avoid capture of the post-war economy by large and more established firms and to repeat the story of the beginning of transition. And in order to do that, we really need to have a transparent and good business environment, level playing field, and good procurement laws and procurement practices in the first place. Also improved access to finance for SMEs. All this should be in place in order to enable the growth of small and medium businesses. And we know from other countries that if you have really a good environment, a transparent environment, a level playing field, then people in Ukraine are entrepreneurial.
They're not less entrepreneurial than in Poland and the wide success of Polish economies should not be replicated in Ukraine. We just need a good business environment for those people, for those businesses. Even if they can thrive in Polish economy, which is a foreign country for them, why would they not do the same and even better in Ukraine. And we see actually in Ukraine, many successful businesses that are now trying to expand out of Ukraine. Like I mentioned now, Nova Poshta, it's a logistic company which is extremely successful and it's going to expand in Poland and the neighboring countries. So why not to have more of such stories in Ukraine?
Andrew Wilson:
I agree with you. I think the story of the resilience of Ukraine's private sector during this period of conflict is nothing short of inspiring. And the country was already on a great trajectory prior to the conflict in terms of developing its tech sector and some of its other small and medium sector industries. So I agree with you. I think the fundamentals are there. It's a question of how we create that basis for future growth. A lot of those lines, the EBRD is a major stakeholder in finance in the region, if not the leading stakeholder in finance in the region, but there are other operations, obviously the World Bank, the IMF, the international donor community. How are you coordinating with these other multilaterals and international donors? And then incorporating perhaps the input from your Ukrainian partners and trying to figure out what to do next and what's the sequencing and where do the priorities lay and whose investments go where and all those kinds of things — what we might say is sausage making of international finance. How are you all working this out together?
Dimitar Bogov:
Yes, this is very important, the coordination of international partners of Ukraine, especially international financial institutions. And very soon after the start of the war, actually EBRD with other IFIs started regular coordination meetings, so-called operational coordination of their activities. And this is being upgraded over time. We have some natural division of labor and we don't overlap so much, though there is definitely an overlap. There's more, I would say, joint interests. And when we talk about the priorities and about the sequencing, certainly macroeconomic and macro financial stability from the first place, the IMF is the one in charge. And therefore, the program that was concluded with Ukraine this year is very important because it restores the macroeconomic stability, it sets the foundation for financial stability and then the others will come. EBRD is certainly in the area of private sector development, the same as IFC and the European Investment Bank. EBRD was from the very beginning, from last year, reactive, as I mentioned. We invested 1.7 billion euros last year.
A lot of that was in the private sector. And yes, private sector development, let's say is an area of these institutions. Then we have a social infrastructure where the World Bank is usually taking the lead. For institutional capacity building the EU would be the natural partner, having in mind also the accession process for EU membership. And it is very important that we coordinate within the programs.
We are on the same page in terms of conditionality. We request the same reforms, we request the same policies, and sometimes our programs serve as leverage for implementation of these reforms. And that's why it's very important. Just for example, in this IMF program now there are some reform conditions there. Some of these reform conditions are of interest to EBRD and World Bank and other institutions, something similar will be included in EU programs — EU conditions for their lending. And then for some reforms, EBRD is the natural partner to support implementation for some others — the World Bank and so on.
Andrew Wilson:
Dimitar, I think if we think back again to the transitions that occurred in Central Europe over the last few decades, obviously the EU integration played a huge role in advancing institutional policy reform and real results within the institutions of governance within the country. Often occurring with, let's say reduced input from the private sector. Often the private sector was playing catch up when it came to trying to adopt to EU standards and get into place on this. Is there a role in this dialogue that you have with the World Bank and the IMF and the government of the Ukraine and perhaps the EU for the private sector to play in helping identify what can work, what they can do, what's a big stretch for them in terms of reforming their own operations or getting ready to move into a European market? And how do you think this could work in terms of incorporating these private sector inputs into the discussion?
Dimitar Bogov:
Yes, this is a very interesting question and you touched upon really important issue. Actually the previous experience of many countries joining EU show that sometimes just administrative implementation of EU regulations could not always be the best thing for the private sector. And that's why it's very important to include the private sector into the process, first in the consultation process. What is the time period needed for the private sector to adjust in order not to put unnecessary burden on them and to kill some of the companies? But also how to help them? How to educate them to improve their operations, to improve according to EU legislation and EU standards? Therefore, definitely there should be a broad consultative process for EU harmonization including the private sector and including civil society, so everybody should be on board. It would be a mistake if just this is done by public administration, which does not always have the right view on the needs and problems of the private enterprises.
Andrew Wilson:
Yeah, thank you. That's very interesting to hear. And I think the big challenge that we always identified when these opportunities presented themselves was making sure that the private sector was ready to participate in these kinds of dialogues, that they knew what was expected of them when they were invited into the room to offer their views. And I think we faced the same challenges with helping the Ukrainian private sector step up. So thank you Dimitar, and just to give you an opportunity to wrap up with anything you'd like to add to the conversation.
Dimitar Bogov:
Just to thank you, Andrew, and the whole role of CIPE. It was a pleasure to be here and to talk on this very important topic and hopefully this war will be over sooner rather than later, and we'll be able to really support Ukraine in the rebuilding efforts.
Andrew Wilson:
So our thoughts, of course, when we close out these conversations, always first go to our friends and colleagues in Ukraine. I want to thank you for joining us on this episode of MOVA. For more information on the Center for International Private Enterprise and our work, please visit our website at www.cipe.org. If you found value in this episode, please show your support by liking and subscribing to MOVA. Sharing this podcast with others helps expand the conversation.
Published Date: September 14, 2023