How can Public Banks in the Global South strengthen democracy and governance? Thomas Marois, a global expert on public banks and a political economy specialist, draws from his background working with numerous public financial institutions around the globe. Marois, a recent Reader in Development Studies at SOAS University of London and a Professor in Political Science at McMaster University, where he is working towards creating a new global center for public banking, explains how public banks can and are already helping countries around the world, notably in Vietnam, achieve their sustainability goals. Jennifer Anderson, Program Director of CIPE's Asia and Pacific Team, hosts the podcast.
---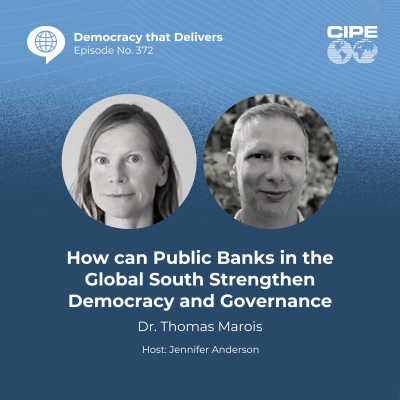 Want to hear more? Listen to previous podcasts at CIPE.org/podcast.
Subscribe to the podcast on iTunes or your Android device.
Like this podcast? Please review us on iTunes.
Published Date: July 20, 2023