This blog post is part of a two-part series on transparency in Iraq. Click here to read the second blog in the series.
---
For years, Iraqi provinces have lagged in economic and infrastructure development, in large part because of a lack of adequate federal funding and accountability. Despite the Iraqi Constitution providing guidance for disbursing federal funding, many provinces still lack the ability to access and use that funding, which shrinks economic opportunity and reduces the quality and quantity of the services provinces can offer. For Anbar province, however, a local business group, the Iraqi Businessmen Union-Anbar (IBMU-A), helped achieve a breakthrough: a fair share of federal funds from oil and gas revenues that can now be spent on local development projects.
Fostering Transparency and Accountability: CIPE's Work on Provincial Decentralization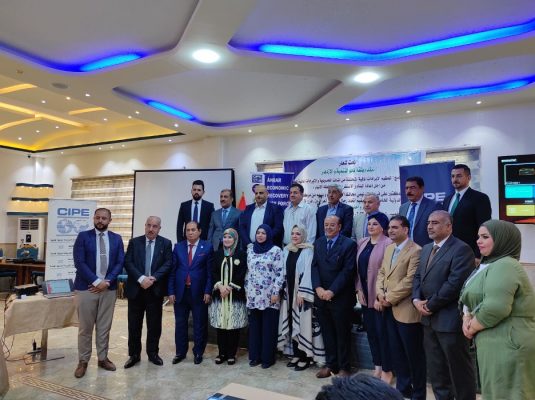 Since 2003, the Center for International Private Enterprise (CIPE) has worked extensively with civil society organizations, business unions, and the Iraqi private sector to increase decentralization, transparency, and accountability to ensure that Iraq's government follows its rules. Of particular interest to the IMBU-A — a provincial branch of one of Iraq's most prominent business associations — and other CIPE local partners is ensuring that Iraq's federal government is properly disbursing revenues from oil and gas sales, border fees, and other local taxes to its provinces and using the money appropriately to bolster Iraq's economic stability. Per the Iraqi Constitution, provinces are entitled to fair and equitable shares of revenues from oil and gas, border crossings, and other activity. But arguments over the semantics of the constitutional provision have blocked provinces from receiving what they perceive as their fair share. Ultimately, Iraq's federal government in Baghdad still has not paid out revenues fairly despite protests from provincial government leadership and provincial civil society organizations.
Advocacy in Action
Anbar's private sector and civil society community, led by IBMU-A, continued their advocacy efforts to make progress on this critical financial inequality.
IBMU-A spearheaded Anbar's advocacy efforts to increase Anbar's constitutionally-mandated share of oil, gas, and border revenues specifically. IBMU-A gathered input from its members on how to increase provincial funding and development opportunities. IMBU-A's ultimate decision was to increase its advocacy efforts with key provincial officials to gain public-sector support and harmonize the economic priorities of Anbar's public and private sectors. IBMU-A met with key officials like Governor Ali Farkan and Administrative and Financial Management Director Mohammed Gargan. They held countless public-private dialogue sessions with members of parliament, encouraging them to join their efforts in advocating for the federal government to open an account.
Eventually, their efforts paid off.
Sidestepping Baghdad's Bureaucracy
After years of advocacy and demands that the government in Baghdad pay its fair share to Anbar, the provincial government got its wish.
While it might seem small, this is an essential victory for Anbar's provincial government and a significant step towards decentralization in line with Iraq's constitution. Anbar now has the foundation to receive its allocated federal funding and invest in local development projects. It gives the province more autonomy and ability to respond promptly to its people's needs.
This win improves trust between Anbar and Baghdad and can serve as a model for other provinces. This is a step towards improved democratic governance in Iraq, as the federal government is now complying with the requirements in the Iraqi Constitution.
Published Date: July 19, 2023