Invisible Trillions is the title of a new book by Raymond Baker, Founding President of Global Financial Integrity. Baker asserts that democracy and capitalism have progressively decoupled over the last few decades, making it easier for illicit money to flow around the globe. Baker shared specific examples and recommendations on CIPE's  Anti-Corruption & Governance Center podcast, addressing key issues such as increasing corruption and "golden visa" programs that give high-net-worth individuals residence permits in foreign countries. Eric Hontz, Director of CIPE's Center for Accountable Investment, hosts the conversation and shares his insights.
---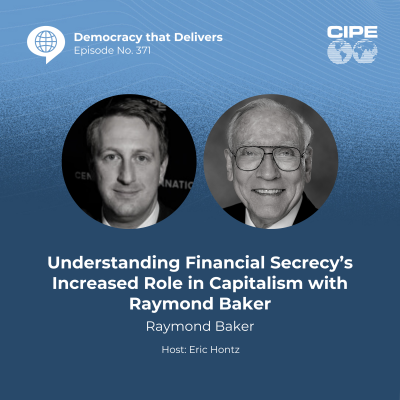 Want to hear more? Listen to previous podcasts at CIPE.org/podcast.
Subscribe to the podcast on iTunes or your Android device.
Like this podcast? Please review us on iTunes.
Published Date: June 28, 2023