Charles Dunst, Deputy Director of Research & Analytics at The Asia Group, a Fellow at the Center for Strategic and International Studies, and Contributing Editor of American Purpose, joins Jennifer Anderson, Senior Program Officer for CIPE's Asia & Pacific team to discuss his new book, "Defeating the Dictators: How Democracy Can Prevail in the Age of the Strongman," which can be found here: http://linktr.ee/defeatingthedictators
Defeating the Dictators by Charles Dunst. Out now.

linktr.ee
In his new book, Dunst writes about how the world is experiencing the lowest levels of democracy in over thirty years. Autocracy is on the rise and may appear to be an attractive option to many. Dictators disrupt democratic foundations from both within and abroad and make those who are disillusioned with current institutions think that authoritarianism could deliver them a better life than democracy could. In this episode, Dunst and Anderson discuss how to combat institutional rot, the relationship between democracy and autocracy, why citizens should be more engaged and interested, and more.
---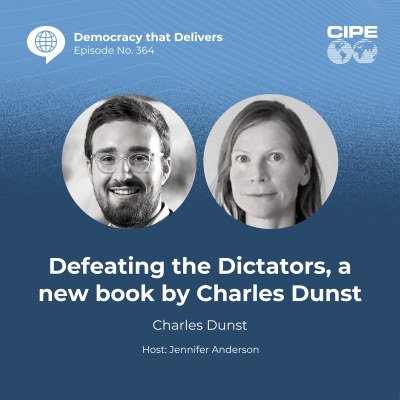 Want to hear more? Listen to previous podcasts at CIPE.org/podcast.
Subscribe to the podcast on iTunes or your Android device.
Like this podcast? Please review us on iTunes.