Corina Rebegea, an Anti-Corruption Advisor at the National Democratic Institute, joins CIPE's Anti-Corruption & Governance Center (ACGC) podcast to discuss how to craft effective messaging that supports anti-corruption campaigns during windows of opportunity. Her report, The Role of Anti-Corruption Communications in Sustaining Integrity Reforms, highlights specific ways to design effective anti-corruption communication campaigns to earn popular support for government integrity reforms. Drawing on her years of experience developing strategies to promote good governance and counter disinformation, Rebegea reviews past research and points to ways to cultivate hope in place of cynicism.
Listen now to hear Rebegea share emerging lessons from anti-corruption campaigns and potential avenues for future research. One major finding in the review is that sometimes anti-corruption campaigns can actually backfire and potentially even create apathy among citizens about the fight against corruption. These takeaways can help guide reformers during windows of opportunity in tailoring their anti-corruption messaging to avoid common pitfalls. This episode is hosted by Richard Christel, a Program Officer with ACGC who leads the Anti-Corruption Rapid Response Program.
---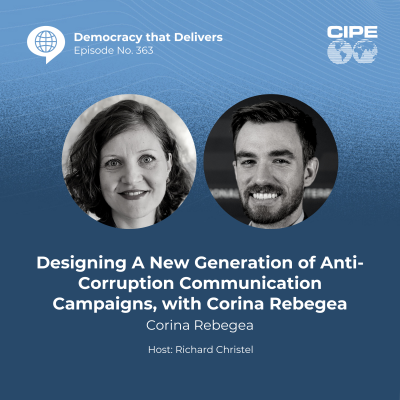 Want to hear more? Listen to previous podcasts at CIPE.org/podcast.
Subscribe to the podcast on iTunes or your Android device.
Like this podcast? Please review us on iTunes.