Dr. Andrea Bonime-Blanc, author and CEO of GEC Risk Advisory, joins CIPE's Anti-Corruption & Governance Center podcast to discuss her new joint publication with CIPE, the Risk to Value Guide: How Emerging Market Businesses Can Transform New Risks into Value. Bonime-Blanc has made a name for herself, including in her acclaimed 2020 book, Gloom to Boom, for articulating how firms can flip the script and convert risks into opportunities. Listen now to hear Dr. Bonime-Blanc discuss the guide and this year's top sustainability "mega trends" that civil society, business, and government leaders need to be aware of. This episode is co-hosted by Michele Crymes, Program Director with ACGC, and Louisa Tomar, Program Director on the Global Programs team with a focus on the intersection of technology and democracy.
---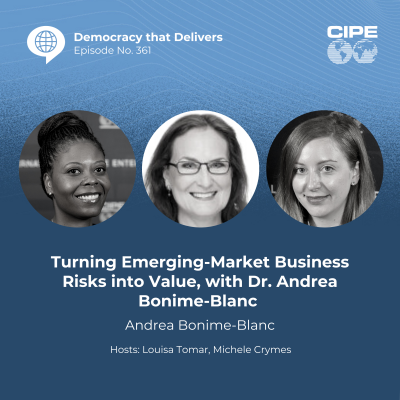 Want to hear more? Listen to previous podcasts at CIPE.org/podcast.
Subscribe to the podcast on iTunes or your Android device.
Like this podcast? Please review us on iTunes.