The Women and Girls Empowered Consortium (WAGE), in partnership with the Center for International Private Enterprise (CIPE) published CIPE's newest Democracy that Delivers podcast, "Reducing Barriers to Women's Economic Empowerment in Moldova." Elena Ratoi, CIPE Program Officer, and Carolina Bugaian, Board Member of the Association of Female Entrepreneurs of Moldova (AFAM) discussed the development of the Alliance for Women's Economic Empowerment in the Republic of Moldova, whose mission is to reduce barriers to women's economic empowerment. Bugaian and Ratoi discussed key successes the Alliance has accomplished in the past year and the importance of women's business advocacy initiatives. They also discussed one of the prevailing barriers to women's economic empowerment, gender-based violence, and how the Alliance works to combat gender-based violence and its damaging effects in Moldova.
---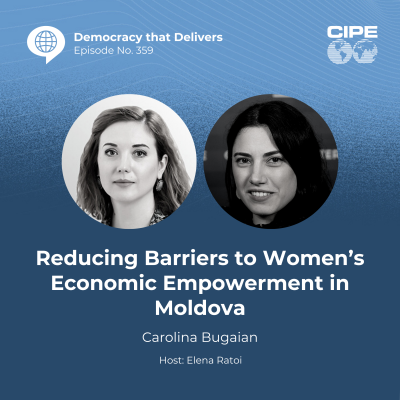 Want to hear more? Listen to previous podcasts at CIPE.org/podcast.
Subscribe to the podcast on iTunes or your Android device.
Like this podcast? Please review us on iTunes.