Cheikhou Oumar, President of the Observatory for Monitoring Economic Development Indicators in Africa (OSIDEA), joins CIPE's Anti-Corruption & Governance Center podcast to discuss Senegal's historic push for ownership transparency in the extractives sector and beyond. Oumar shares his experience at the center of trilateral negotiations with government, business, and civil society as the country has launched and mandated compliance to its first-ever beneficial ownership registry, which currently includes 130 companies and counting. Listen now to hear how the West African country of 16 million has taken on some of the biggest private interests in its $24 billion economy by requiring them to share their ultimate owners, how the private sector has reacted, and what OSIDEA has been doing to raise awareness about how beneficial ownership transparency helps combat corruption and level the playing field in the economy. This episode is hosted by Richard Christel, Program Officer with ACGC and lead for the Anti-Corruption Rapid Response Program.
---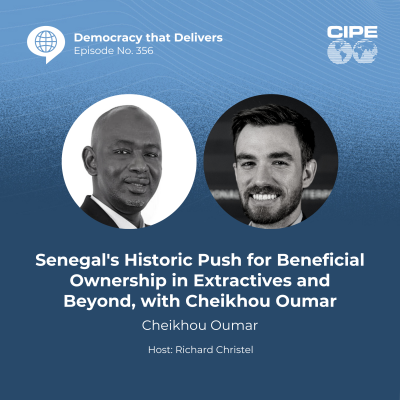 Want to hear more? Listen to previous podcasts at CIPE.org/podcast.
Subscribe to the podcast on iTunes or your Android device.
Like this podcast? Please review us on iTunes.