Banding Together to Support Ukrainian Refugees
Individual businesses and various business membership organizations across the world are banding together to help Ukrainian citizens that have been displaced due to the Russian invasion. Refugees are pouring into Poland, and the private sector has traveled to the border to provide aid, assistance, lodging, and other necessities to Ukrainians. In addition, a variety of business associations across diverse sectors have pledged to help Ukraine rebuild and recover after the war.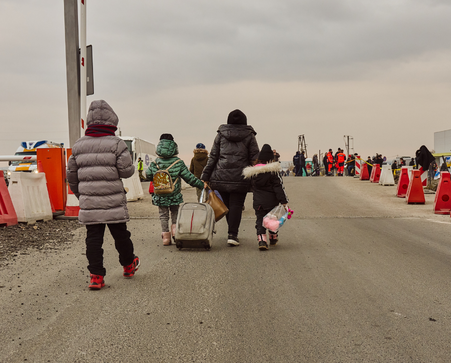 With over two million Ukrainian refugees arriving at the Polish border by mid-March, support from local businesses has been essential. Small and medium Polish enterprises have come together to provide food, transportation, and other services for refugees. Since March, businesses have helped Ukrainians arriving in Poland through all stages of their journeys. The catering company Vegan AF Ramen provides food to Ukrainians after they cross the border, recruitment agency HerImpact has been helping female refugees create CVs to find work in Poland, and Polish foundation #TechForUkraine is connecting IT companies with NGOs to help Ukrainians find accommodations in Poland. These companies and so many more are providing services for their neighbors to the east to help them ease into Polish society.
HerImpact works with Ukrainian women, connecting them to companies to help them find jobs in Poland as the number of females moving into the Polish workforce increases following the Russian invasion. The country had a labor shortage prior to the invasion which makes it an ideal destination for Ukrainian refugees looking for work. To connect women to these opportunities, HerImpact works collectively with its partner organizations including local small and medium Polish businesses and larger corporations such as Puma, Levi's, and Microsoft.
#TechForUkraine was developed by Tech To The Rescue, a global platform driven by the mission of using the power of technology to help NGOs increase their impact and search for solutions in the face of the world's most pressing issues. #TechForUkraine coordinated with over 700 Polish technology companies to respond to the war in Ukraine and lend support to over 150 nonprofits so they could provide housing, employment, and general aid to Ukrainian refugees.
In March 2022, the American Chamber of Commerce in Poland (AmCham Poland) created a program called Corporate Aid for Ukraine. The program amassed funds to provide rapid humanitarian aid to the people of Ukraine, including refugees. AmCham Poland coordinated with partner associations and chambers to collect funds, including the Polish Chamber of Commerce in Japan, and the Young Presidents' Organizations based out of Poland and Kyiv. In addition, NGOs such as the TRATWA Association in Wroclaw are providing refugees with essential goods and coordinating with hotels and facilities to provide housing. The next step in this process is to help Ukrainians find jobs in Poland. As the war continues on, many decided they will stay in Poland permanently.
These instances of collective action involving business associations, corporations, and chambers of commerce are providing Ukrainian refugees with the help they need and offer a model for further work. Chambers and associations can provide resources, share knowledge, and amass funding for front-line aid to help the Ukrainian people.
Poland has not struggled to integrate Ukrainians into their economy in the way other host countries have struggled to integrate refugees. Culturally, Ukrainians have not had to adapt as much as they would in other country contexts, since both countries share similar cultures. The EU has granted Ukrainian refugees temporary protection status in all EU states as well. Prior to the refugee influx, Poland experienced a labor shortage, so the private sector has welcomed new workers. Businesses and companies are taking major steps in hiring refugees and developing training resources to prepare Ukrainians for the Polish workforce. Staffing firms like Manpower, among 50 other employers, have signed the Tent Partnership for Refugees which promises to supply displaced Ukrainians with funding support, defend their rights, and help them settle into new communities. A free jobs platform has also been created by one of the companies within the Tent Partnership for Refugees, Adecco, to help refugees find tech jobs and other remote or virtually accessible work.
The Polish Investment and Trade Agency (PAIH), an advisory institution under the Polish Development Fund, will also help Ukrainian businesses relocate to Poland and provide support as they search for investment sites, warehouses, and other resources. The PAIH will empower entrepreneurs to find new markets for their goods as many companies are having trouble accessing raw materials and tools for production.
Poland and Ukraine have been close political and economic allies for years, and even before the war there were over 6,000 Ukrainian businesses in Poland. A systematic approach to collaborate with and facilitate the expansion of Ukrainian business associations has been necessary as the two countries work together to help Ukrainians and their businesses. The Union of Entrepreneurs and Employers of Poland (ZPP) has launched a presence in Ukraine as one of the leading Polish business associations. The Europe-Poland-Ukraine: Rebuild Together business forum was held in Lviv and Kyiv in early July as a joint effort by the ZPP, the European Business Association (EBA), the Ukrainian Chamber of Commerce and Industry (UCCI), and the Union of Ukrainian Entrepreneurs (SUP). There were 100 Ukrainian and Polish companies and entrepreneurs that participated in the forum to discuss which sectors of the Ukrainian economy were suffering most and how to rebuild in the future.
PAIH kickstarted a project to help Ukraine rebuild post-war, covering key industries such as construction, medicine, transport equipment, machinery, IT, consumer goods, agriculture, and more. As many as 1,200 Polish companies have signed onto the program, and most of these companies are SMEs. Joint industry consultations began on August 1, while implementation of the outlined activities will begin when Ukraine experiences more stability. The war has put a huge strain on Ukraine's economy, which has had serious ramifications for the Polish market, so rebuilding and reinstalling infrastructure in Ukraine is beneficial to both countries.
Collective action among the business community is necessary to rebuild Ukraine. So far, the joint efforts between local businesses, chambers of commerce, business associations, and governments has allowed Ukrainian refugees to establish themselves in Poland. The war continues on indefinitely, and the Ukrainian people will benefit from assistance rebuilding long after the war is over. Joint efforts between the Polish and Ukrainian governments have been made to begin planning for this process of rebuilding. With continued Ukrainian resilience, Polish support, and a willingness to combine efforts across businesses and governments in the two countries, meaningful steps can be taken to support Ukraine's private sector and citizens.