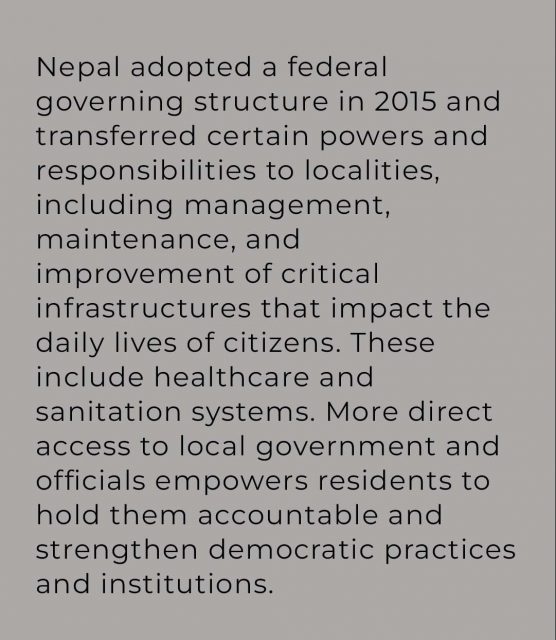 Nepal recently announced a November 20 general election date to elect representatives to Parliament and provincial assemblies. Meanwhile, analysts continue to discuss key takeaways from the outcomes of the country's local elections held on May 13, as the winners settle into office. The May elections marked only the second time that Nepali voters cast their ballots since Nepal's shift to Federalism in 2015. In these elections, Nepali citizens voted for representatives in 6 metropolitan cities, 11 sub-metropolitan cities, 276 municipalities, and 460 rural municipalities to fill 35,221 local legislative and executive seats. And five major parties (Nepali Congress, CPN-Maoist Centre, CPN-Unified Socialist, Janata Samajwadi Party, and Rastriya Janamorcha) decided to jointly contest the elections, meaning they selected candidates together to "seat share" for many offices.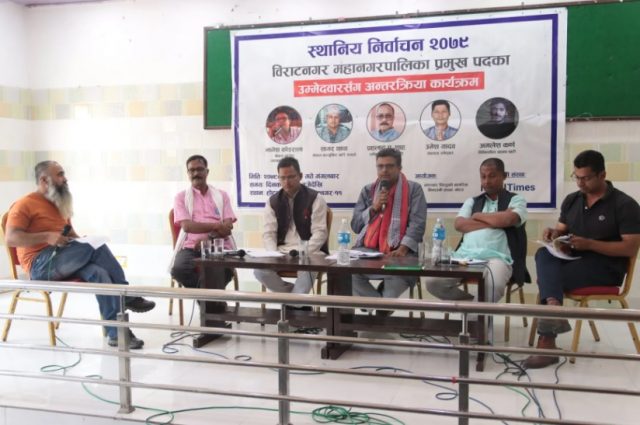 Despite sporadic incidents of violence, the election processes are believed to have been relatively free and fair. At the same time, news reports indicate that the (sometimes confusing) alliance politics and misinformation may have contributed to drops in voter turnout, which was 64% compared to 74% in 2017 elections, as well as the nomination of women candidates. That said, 14,407 women ended up winning 41.21% of the available seats, just slightly more than the 14, 352 seats won by women in 2017. This time around more women were elected as mayors and ward chiefs, while the number of women deputy chiefs decreased.
Of particular note: the unprecedented success of independent candidates over veteran politicians in several of Nepal's most critical cities. The May triumph of 385 independent candidates over veteran politicians is unique for Nepal, where political parties have a long history of maintaining dominance over powerful political and bureaucratic positions. In these elections, a number of candidates nominated by the political elites and senior party leaders were unable to secure victories.
Kathmandu Metropolitan City Mayoral Election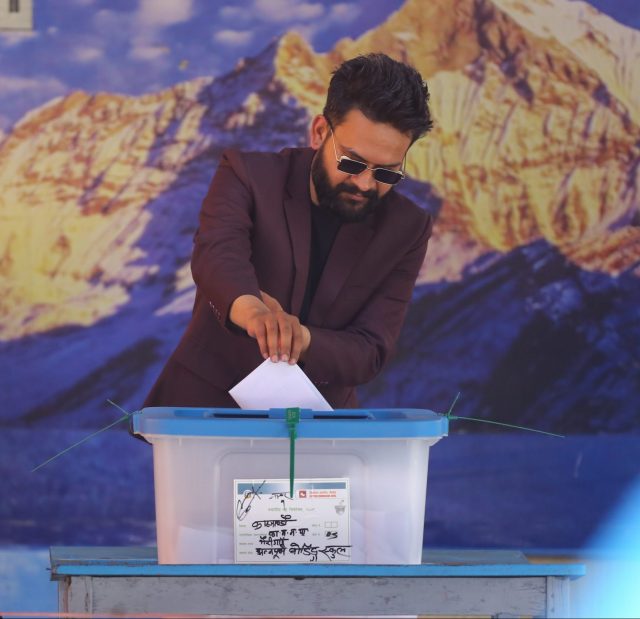 The mayoral election in Kathmandu Metropolitan City (KMC), the capital of Nepal, is one key example of an independent candidate defeating establishment politicians. Balendra "Balen" Shah's overwhelming victory as an independent stunned the political parties and excited much of the public. At only 32 years of age, the former hip-hop star became the mayor of KMC by defeating several veteran politicians. These politicians included Keshab Sthapit, a two-time mayor and a former Minister of Bagmati Province, and Srijana Singh, who belongs to a family with deep political ties. KMC was not the only place where career politicians were defeated by newcomers. For instance, Harka Sampang of Dharan and Gopal Hamal of Dhangadhi secured victories in mayoral elections.
Political and social analysts have offered several explanations for why the public elected so many independent candidates this time, many of whom are without extensive political backgrounds or ties. Reasons cited include many issues frequently associated with establishment politics and their regimes: concerns about undemocratic governance, corruption allegations, poor service delivery, and lack of accountability to constituents. Political experts further posit that the success of Shah and other independent candidates is evidence of an eroding confidence in status quo political leaders who, as representatives of their parties, have repeatedly failed to fulfill promises made to the public.
Drawing further on the Shah example: With no prior political experience, Shah came forward with a progressive development agenda that promised to make small, realistic improvements in the most pertinent social, political, and economic aspects of people's lives. Key areas cited in Shah's election manifesto include waste management issues and public toilet systems. Meanwhile, his focus on unemployment issues and other major challenges helped capture the youth vote.
Cleaning Up in Kathmandu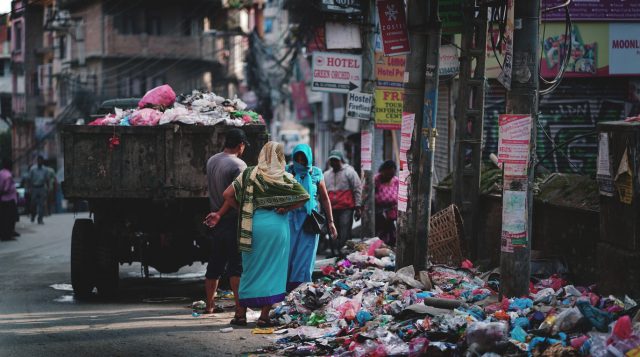 Kathmandu is consistently ranked as one of the top ten most polluted cities in the world, with garbage collection and waste management among the chronic problems. Shah has moved quickly to fulfill related campaign promises since assuming office on May 30. This includes a swift agreement involving representatives of the Urban Development Ministry and officials in two districts to utilize a landfill site they control. Shah also announced plans to separate and dispose of degradable and non-degradable waste, as well as a system to make fertilizer from garbage. If successful, the program could help manage the 500 metric tons of garbage that KMC produces on a daily basis to some extent. Other pressing issues include addressing the health and environmental concerns of residents who live around KMC's largest landfill site in Sisdol, following Shah's meeting with them at the site. How Shah will accomplish this is unclear, but his outreach has gained much praise and attention. Previous mayors connected with major political parties had not publicly prioritized the garbage issue despite increasing problems.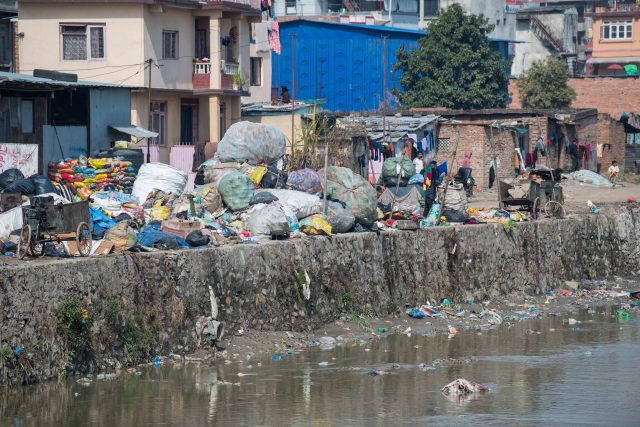 Shah is also making precedent setting agreements with the private sector to tackle KMC's lack of public restrooms, forging deals with 33 businesses to allow free public use of some of their toilets, while maintaining responsibility for maintenance and sanitation. Banks, restaurants, schools, and publishing houses are among those that have signed on, making at least 250 toilets accessible throughout the city. The prominent Nabil Bank, Nepal's first joint venture bank, will allow public use of restrooms in 17 KMC locations. This initiative could be another important step toward keeping the capital city clean and hygienic, growing its appeal as a tourism spot.
What May Happen Next?
Many political experts and social analysts speculate that the swift accomplishments of independents in local leadership positions like Shah will encourage likeminded individuals to run for other positions in November elections. And a continued increase in challengers may compel incumbents and other established political figures to take issues such as public accountability, service delivery, democratic governance, and anti-corruption more seriously. Shah's successful agreements may also exemplify the start of stronger and more cooperative public-private partnerships and further exploration of business-led solutions to Nepal's social and economic challenges, including COVID recovery.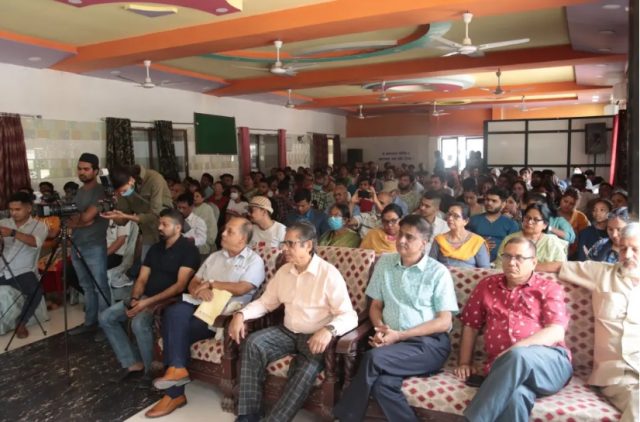 At minimum, the May 2022 results are a signal that voter attitudes are shifting. The wins by independent candidates could mark an important and initial step toward addressing the centralist nature of current political parties, where top leaders often hold their positions for life, with little emphasis on inclusiveness. When there is more space for new, committed people to take on leadership roles, the democratic environment in Nepal will be strengthened.