Originally published in Spanish (as seen and translated below) in Revista Enlace Portuario Edition No. 29, 2022. Page 48.
Guatemala is working to facilitate international maritime trade.
Arrival and departure clearance of vessels, at any port, implies the exchange of information and the execution of various controls.
These procedures respond to legitimate security, monitoring, and prevention goals of the states, which become tragically unattainable when based on outdated protocols.
Inefficient authorizations increase terminal idle time, harm multiple links in the supply chain and drive up their costs. Additionally, if official efforts are ineffective, public resources are wasted and port facilities and even the health of the population could be put at risk. Optimizing these procedures is crucial to facilitate trade, promote economic and tourism development, and fulfill the mission of government agencies.
Guatemalan customs, maritime, port, health, and migration authorities are committed to improving these formalities in the country's main ports. Since May 2021, with the support of the Global Alliance for Trade Facilitation and the Center for International Private Enterprise, they have worked in a coordinated and determined manner on the Modernization of Port Arrival and Departure Processes project. Since its beginning, the initiative has had the collaboration of the private sector, including shipping agents, port operators and business associations.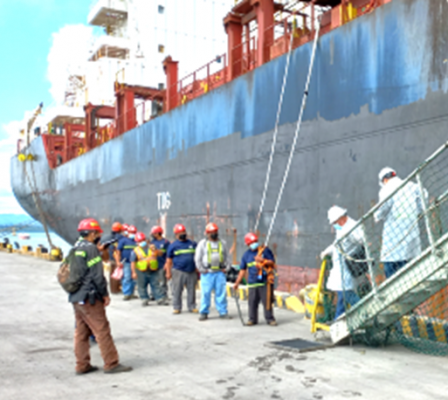 The first phase of the work is focused on process reengineering. The documents used in the arrival and departure clearance, as well as the activities that public officials and private actors carry out, will be contrasted with international standards. Based on the identified gaps, improved requirements and interventions will be designed.
During the second phase of the project, and simultaneously with the formalization of the new processes, an IT platform will be developed to centralize and take advantage of the information exchanged in the operations. Beyond minimizing in-person actions, the use of paper and the risk of errors when typing data, the adoption of a computer system will allow the creation of comprehensive statistics, useful for risk management and decision making in the entities involved.
The project will reduce the time and costs associated with authorizing the arrival and departure of ships at Guatemala's four main ports.
It will also contribute to the proper use of resources and the strengthening of port operations, increasing Guatemala's competitiveness, mainly in the field of international trade. The impact of the initiative will be measured through different indicators, including vessel movement, processing time, waiting time and average cost in the public and private sectors. Among the expected qualitative results, the advance of coordinated port management and public-private collaboration stand out, which will be decisive in the future for the modernization and continuous improvement of Guatemala's port system.
Consistent with the Alliance's mission, this project will support Guatemala's implementation of the Trade Facilitation Agreement but will also bring it closer to its goal of ratifying the Convention on Facilitation of International Maritime Traffic (FAL). The initiative could become an innovative tool for the advancement of international commitments in both realms by many countries around the world.
---
Guatemala trabaja en facilitar el comercio marítimo internacional.
 El despacho de arribo y zarpe de embarcaciones, en cualquier puerto, implica el requerimiento de información y la ejecución de diversos controles.
Estos procedimientos responden a objetivos legítimos de seguridad, monitoreo y prevención de los Estados, que se vuelven trágicamente inalcanzables cuando se basan en protocolos desactualizados.
Un despacho ineficiente engrosa el tiempo de inactividad en las terminales, perjudica a múltiples eslabones de la cadena de suministro y elevan sus costos. Si además las gestiones oficiales son inefectivas, se desaprovechan los recursos públicos y podrían ponerse en riesgo las instalaciones portuarias y hasta la salud de la población. La optimización de estos trámites es crucial para facilitar el comercio, promover el desarrollo económico y turístico, y cumplir la misión de las agencias gubernamentales.
Las autoridades aduaneras, marítimas, portuarias, sanitarias y migratorias de Guatemala se han comprometido con la mejora de estas formalidades en los principales puertos del país. Desde mayo de 2021, con el apoyo de la Alianza Global para la Facilitación del Comercio y el Centro para la Empresa Privada Internacional, han trabajado de manera coordinada y decidida en el proyecto Modernización de los Procedimientos de Arribo y Zarpe de Embarcaciones. La iniciativa cuenta, desde su concepción, con la colaboración del sector privado, incluyendo agentes navieros, operadores portuarios y asociaciones empresariales.
La primera fase del trabajo está enfocada en la reingeniería de procesos. Los documentos que se utilizan en el despacho de arribo y zarpe, así como las actividades que los funcionarios públicos y los actores privados realizan, serán contrastados con estándares internacionales. Con base en las brechas identificadas se diseñarán los requisitos e intervenciones mejoradas.
Durante la segunda fase del proyecto, y de manera simultánea con la formalización de los nuevos procesos, se desarrollará una plataforma informática que permita centralizar y aprovechar la información intercambiada en las operaciones. Más allá de minimizar las actuaciones en persona, la papelería y el riesgo de errores al digitar datos, la adopción de un sistema de cómputo permitirá la creación de estadísticas comprehensivas, útiles para la gestión de riesgo y la toma de decisiones en las entidades involucradas.
El proyecto reducirá el tiempo y los costos relacionados con la autorización de arribo y zarpe de embarcaciones en los cuatro puertos principales de Guatemala.
Asimismo, contribuirá al uso adecuado de recursos y el fortalecimiento de las operaciones portuarias, aumentando la competitividad de Guatemala principalmente en el ámbito del comercio internacional. El impacto de la iniciativa será medido a través de distintos indicadores, incluyendo movimiento de embarcaciones, tiempo de procesamiento, tiempo de espera y costo promedio en los sectores público y privado. Entre los resultados cualitativos esperados, destacan el progreso de la gestión coordinada de puertos y la colaboración público-privada, que serán determinantes a futuro para la modernización y mejora continua del sistema portuario de Guatemala.
Congruente con la misión de la Alianza, este proyecto apoyará la implementación del Acuerdo sobre Facilitación del Comercio por parte de Guatemala, pero además le aproximará a su objetivo de ratificar el Convenio para Facilitar el Tráfico Marítimo Internacional (FAL). La iniciativa podría convertirse en una herramienta innovadora para el avance de compromisos internacionales en ambos campos por parte de muchos países alrededor del mundo.