Following a COVID-19 impact assessment in Ethiopia, CIPE established a revolving loan fund to benefit marginal economic actors – specifically women-owned businesses – to recover from the devastating consequences of the economic downturn triggered by the pandemic. To close the widening finance gap for struggling communities, CIPE is currently engaging with business membership organizations (BMOs) and civil society organizations (CSOs) in Amhara, Oromia, Somali, and Benishangul-Gumuz.  
In Amhara, CIPE identified the Amhara Women Entrepreneurs Association (AWEA) as its partner based on its active engagement with marginal economic actors and experience in managing saving and credit programs. Beginning in December 2020, CIPE directly disbursed $70,000 to AWEA, and through its saving and credit cooperatives, AWEA has provided loans to 74 marginal economic actors in six cities of the region (Bahir Dar, Gondar, Dessie, Debre Markos, Motta, and Finote Selam). This series of case stories highlights some of the experiences of loan beneficiaries across Ethiopia.  
AROMA OF NEW BEGINNINGS
On Saturday, a casual market day in Debre Markos, Fasika Hone, 35, was sitting on the street corner hoping to sell fruit to earn her keep. She had not sold a single fruit when her friend came by and witnessed the hardship of not getting a single buyer. Fasika would wait and run in the street in the hope of making a daily living. Since selling from an unregistered stall on the street is an illegal trade practice, the police used to chase her away. This has been a regular part of her daily life for ten years since she left her first born, a two-year-old baby, at home in search of a better life.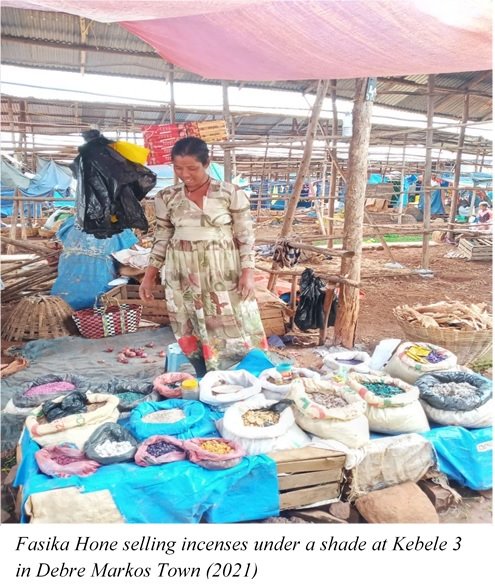 Unhappy being an illegal trader, Fasika heard her friend mention an initiative that offered loans for women whose micro businesses had been affected by the COVID-19 pandemic. Fasika became very keen not to lose the opportunity to participate in the revolving fund. "I was sleepless and even kept on nagging my friend day and night to take me to those who provide the loan," she says.  
Fasika had to take on additional family responsibilities when her husband, who was a daily laborer at a construction site, was laid off due to the COVID-19 pandemic. "The burden to take care of my husband and my two little children augmented with high cost of living in a rented house instantly fell on me," she says.  
Fasika's friend kept her word and took her to the Amhara Women Entrepreneurs Association (AWEA) office in Debre Markos. She started the process of getting a loan as part of CIPE's support to empower small business owners. However, she faced difficulty finding an eligible cosigner, who will agree to take responsibility for the loan if she defaults. One of the loan requirements is that a cosigner must be someone who either works in a government office or has a house that can be put as collateral for the loan. "I left my mother on a deathbed just to search for a cosigner," recalls Fasika. After she asked several people for help, at last, she turned to her friend who told her about CIPE's project to ask her to be her guarantor. Her friend agreed to do so for one year. "Had my friend declined to put her house as collateral for me I would have not been accepted for the loan," she says.  
A new beginning 
Fasika had always wanted to sell incense, but she could not overcome the challenge of getting capital. "Every time I passed through the market, I imagined myself with a large quantity of incense." Now, with the loan she got from AWEA and CIPE, Fasika runs a highly successful incense retail business in Kebele 3 of the Debre Markos town in the Amhara Regional State. The moment she obtained the loan, she rushed to secure a market shade and set up her incense shop.  
Incense has significant importance in Ethiopian culture, especially for coffee and other traditional ceremonies. Fasika, with no formal education, seems to have discovered this niche market without a market survey. She chose to invest all her borrowed money in incense, saying "it has a long shelf life and is easily marketable with good return." Fasika now sells a variety of incense, which she gets from a wholesaler in Debre Markos. Fasika acknowledges her limitations in financial bookkeeping practices; however, she always makes sure that the amount for her monthly loan repayment is saved. "I understand that I need to be able to balance my expenses and returns, at least." The Amhara Women Entrepreneur's Association also provides regular business training sessions for its members. Praising the loan that changed her life, she commends the training in Bahir Dar, the regional capital, and the experience sharing session she took part in Debre Markos, as instrumental for her work and personal development. "I benefited highly from the training that helped me improve my skills on marketing, social relationships and communication as well as bookkeeping." 
Fasika was able to start the monthly credit repayment of 1,644 Birr even before the due date of the first month. "I take it as my own money… Had I borrowed from an individual I would have never had the freedom and confidence in my neighborhood." In addition to that, she makes a deposit of 300 Birr on her personal saving account every month. Fasika says other women who did not get the chance she did are still in the street vending. "I pass by them and see them sitting in the street every morning and evening." Like the incense she sells ignited by a hot coal to produce aroma, her aspirations also grew alongside it. Fasika demonstrates high levels of determination, saying that she does not want to sit and wait for miracles to happen in her life but is ready to work to make the miracles happen.