Online meetings and events offer a unique opportunity for business membership organizations (BMOs) and other civil society organizations (CSOs) to reach wider audiences than ever before while significantly reducing expenses and time, for both attendees and organizers.
The COVID-19 pandemic forced communities and businesses to move online, and many BMOs and CSOs transitioned events to the virtual space due to social distancing protocols and travel restrictions. The utilization of online events only continues to grow, as virtual events around the globe are expected to increase at a "compound annual growth rate of 23.7% from 2021 to 2028," according to the Global Virtual Events Market Size & Share Report, 2021-2028.
As online meetings and events continue to be commonplace going forward, this blog outlines best practices that can support BMOs and CSOs in delivering effective meetings while fostering inclusive participation.
Identifying the Audience
There is a lot of competition for people's attention, so it is important to distinguish your organization and the meeting or event you are trying to arrange from other invitations your target audience might receive. When considering your target audience, it is a good idea to contact them through a communication medium where you know they are most likely to notice you. Understanding the most popular social media network(s) in your country is an excellent place to start, especially if you want to reach people beyond your usual audience. However, if you are trying to advertise your meeting or event only to people you know, utilizing your existing mailing lists or social messaging groups is ideal.
Promoting Invitations to the Event
If your organization is expecting a certain number of stakeholders at your event, it is recommended to decide on the ideal volume of attendees and then double that figure. According to Bizzabo (2020), on average you can expect that about half of the people who register to participate in your online meeting or event will not attend. This means that if you would want to have at least 20 participants at your event, it is a good idea to invite approximately 40 people. One way to encourage participants to register for your event is by developing materials that market your event and are visually appealing. Tools such as Canva and Pixelied are great resources for creating stunning promotional images that are either free or can be purchased for a low cost.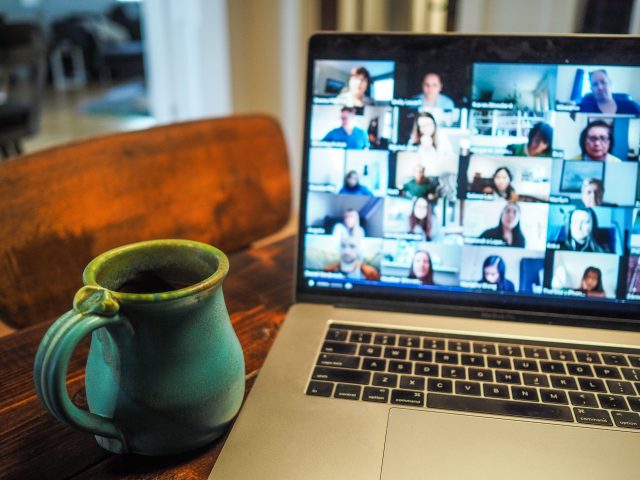 When your organization is promoting an event or meeting, it is also helpful to regularly remind your audience about the event on various social media platforms (e.g., Facebook, Twitter) at least a few times each week in the lead up to the event. However, given that cybercrimes are on the rise, it is also crucial to remember to stay safe when doing so. For example, rather than sharing Zoom or meeting links on social media, which may result in data breaches or digital security concerns, your organization should only highlight the link to the RSVP page, to maintain full visibility on who is joining your event. To learn more about best practices when using tools including Canva, or social media platforms such as Facebook and Twitter, please visit CIPE's Technology for Democracy learning module on Communication and Social Media.
Selecting a Virtual Platform
When selecting a platform for an online gathering, there are a few considerations to take into account. First, it is a good idea to identify a platform that your target audience may already use or will feel comfortable using. Second, depending on the structure of your event, your organization should consider whether the platform has built-in features that can support the facilitation of the meeting. For example, if your online gathering will involve breakout rooms, selecting a platform that includes this function is crucial.
Another important consideration is the security of the platform. For instance, some platforms offer end-to-end which offers an additional layer of security. Other security features may be available such as a waiting room where the host must verify a participant's identity before allowing them to enter the meeting. Before selecting a platform, it is a good idea to research what types of security features may be available for certain platforms. It is also important to note that some security features must be turned on manually by the host before creating the online event link. Understanding the security features of a platform and how to use them is an important ingredient to ensuring that you and your participants are safe and secure during the event.
Ensuring Inclusion in the Event
If some or most of your stakeholders have variable connectivity or only have a low-bandwidth connection, it may be useful to encourage your attendees to turn their cameras off. Displaying live video can consume not only lots of battery power but also bandwidth – and people may be paying a lot of money to join your event or meeting online. Unless someone must be seen on camera, it is a good idea to ask all event attendees to use only audio when making their contributions during the gathering.
Furthermore, for participants who have conflicting appointments or have internet connectivity issues, recording your organization's event allows stakeholders that were not able to join to still view or listen to the session. Nowadays, most meeting platforms can record live sessions for later distribution. To maintain the safety and security of the online event or meeting, it is also best practice to ensure participants are notified and aware that the meeting is being recorded beforehand. Your organization should also confirm there are no concerns from participants on sharing the meeting details. Alternatively, you can ensure that participants who are unable to attend your event are consulted before the gathering so that their opinions and ideas can be shared during the meeting by a proxy. One way to collect feedback or input before an event is through polling and surveying tools, which allow others to participate more flexibly at a time and location that is convenient to them.
Fostering Engagement with the Audience
Lastly, it is important for your organization to keep participants engaged throughout the online meeting or event. Recently, researchers from Stanford University (2021) confirmed that humans experience fatigue from participating in virtual meetings and events. Given this potential to tire your guests mentally and physically, your organization should consider making gatherings more interactive. During the session, you can create and share polls or quizzes with your guests, utilize breakout rooms for small group discussions, play energizing music during breaks, or encourage your guests to move with periodic stretch breaks. Another way to help ensure participants stay engaged during the session is to invite a guest speaker that is an expert on a particular topic. These small considerations can go a long way to help your organization create a memorable event that receives positive feedback.
Given the trend toward more online meetings and events, it is likely that virtual events are here to stay. Even as in-person events and meetings gradually return, hybrid events, or events that combine both an in-person and virtual format, may become the new normal. It is important for BMOs and CSOs to become familiar with how to conduct and facilitate effective online meetings. For more information and best practices on utilizing civic technology tools and resources throughout your organization's work, please visit CIPE's Technology for Democracy Online Course.
---
Ronda Zelezny-Green is Co-Founder and Director, Panoply Digital Ltd