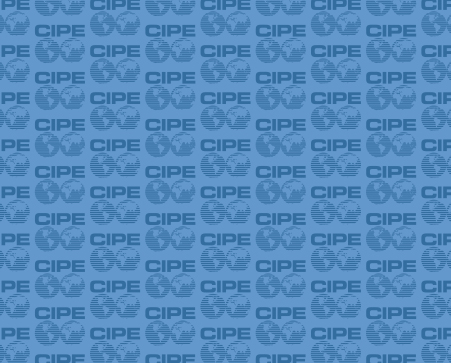 "A transition is a tremendous undertaking but it is a greater challenge to make that transition work." Dr. Jesus Estanislao was a leader at the time of the "people power revolution" in 1986, served in the administration of President Corazon Aquino, and has continued building governance in the Philippines to this day. His experience as a pioneer in government and civil society brings valuable perspectives on different dimensions of democratic transition: from crisis management to long-term institution building; from economic to political and social decision making; and across all levels of society.
Dr. Estanislao generously shared his advice with civic and business leaders across the Middle East at CIPE workshops in March 2012. These Arab leaders found the Philippine experience to be remarkably relevant and compelling, so we captured Dr. Estanislao's contribution for CIPE's Economic Reform Feature Service. Key lessons include the need for a long-term vision, the importance of institution building, and anunderstanding of democratic governance as a process of citizen participation and responsible citizenship.
There is no question Dr. Estanislao's advice has stimulated noteworthy action in the Middle East. In Yemen, CIPE partner the Studies and Economic Media Center and the Yemeni private sector-led Economic Vision Task Force have met with the Minister of Planning and International Cooperation to present policy recommendations on economic reform priorities. As a result, the government amended its 2012-2014 development and stability plan to include some of these policy proposals, which will be presented at the upcoming donor conference in Riyadh in September 2012. Also, six members of the Economic Vision Task Force have been selected to become part of the private sector committee for the ongoing National Dialogue, the inclusive forum tasked with shaping the framework of Yemen's democracy.
Article at a glance:
The experience of the Philippines can be instructive to countries currently undergoing their own democratic transitions.
Citizenship in a democracy requires responsibility. Rights and privileges must be accompanied by a sense of duty and social responsibility.
Democratic governance is a process of empowerment and participation. The people and the government both must be invested in pursuing good outcomes.