About the Event
As part of Global Entrepreneurship Week, the Center for International Private Enterprise (CIPE) and Layertech Software Labs cordially invite you to the launch of the new course: "Harnessing the Power of the Digital Economy: MSME Guide to Digital Transformation." This interactive training program supports entrepreneurs to build their digital literacy skills, innovate, and grow their business ventures online!
About the Agenda
0900 – 0910 Welcome Remarks: Promoting Entrepreneurship in the Digital Age
Kim Bettcher, Director, Policy, Programs and Learning, CIPE
0910 – 0930 Course Demonstration and Presentation
Frei Sangil, Co-founder and President of Layertech Software Labs Inc, Philippines
"Harnessing the Power of the Digital Economy: MSME Guide to Digital Transformation"

0930 – 0935 Video Address
Mahalia Mabini, Entrepreneur, Philippines
0935 – 0940 Module 5 – Local Adaptation and Application
Adam Sachs, Associate Program Officer, CIPE
0940 – 0950 Audience Q&A
Adam Sachs, Associate Program Officer, CIPE
0950 – 1000 Synthesis and Closing Remarks
Anna Kompanek, Director, Global Programs, CIPE
About the Speakers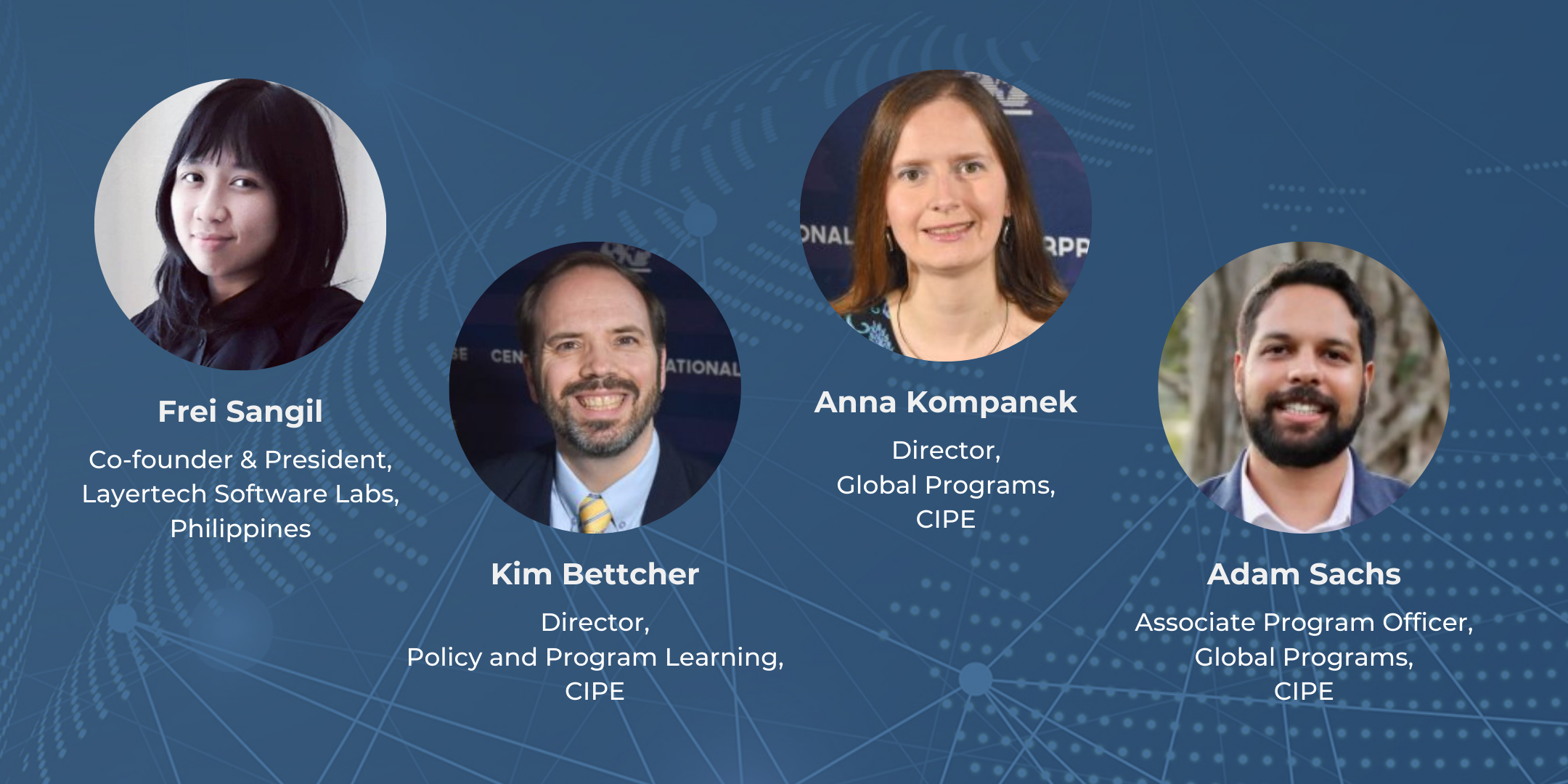 Frei Sangil is a Data Science Lead native to the Philippines. Ms. Sangil currently serves as the Chief Executive Officer and Lead Data Scientist of Layertech Software Labs, Inc., which provides a wide range of software and technological solutions by engaging in research and development, training and modules, analytics and consultancy, and advocacy work. Ms. Sangil also works as Chief Information Officer of Ignyte Innovations Lab, Inc., a non-profit organization that aims to solve society's problems with the help of Innovation, Science and Technology, where she acts as the company's key decision maker for technology and innovations projects. At Ignyte, Ms. Sangil was the project lead and chief systems designer of project Balangay, a cloud information system for natural disaster preparation. Most recently, Ms. Sangil served as a Data and Analytics Consultant for "Cybersafe PH", leading the design of an endpoint game software called "What Happened To?", which securely and ethically collects data.
Kim Bettcher leads the Center for International Private Enterprise's (CIPE) Policy and Program Learning initiative, which captures lessons learned in democratic and economic institution-building around the world. The initiative shares strategies, best practices, and lessons with an international network of reform leaders. Dr. Bettcher has written and edited numerous resources for CIPE, especially toolkits on public-private dialogue and anti-corruption, a report on Creating the Environment for Entrepreneurial Success, three case study collections, the CIPE Guide to Governance Reform, and CIPE's 25-Year Impact Evaluation. Bettcher has published articles in the Harvard Business Review, Party Politics, SAIS Review, and the Business History Review. He has taught as an adjunct professor at George Mason University's School of Public Policy and was previously a research associate at Harvard Business School. Bettcher holds a Ph.D. in political science from Johns Hopkins University and a bachelor's degree from Harvard College. Follow Kim on Twitter.
Anna Kompanek is the Director for Global Programs at the Center for International Private Enterprise (CIPE). In this role, she manages a portfolio of programs spanning emerging and frontier markets around the world focused on CIPE's core themes of business advocacy, combating corruption, strengthening entrepreneurship ecosystems, and women's economic empowerment. Her particular expertise, including training and capacity building for private sector organizations, is in the areas of anti-corruption compliance and association governance and management. Kompanek holds a designation of Certified Compliance and Ethics Professional-International (CCEP-I) awarded by Compliance and Certification Board, and she is a graduate of the U.S. Chamber of Commerce Foundation's Institute for Organization Management (IOM), the premier nonprofit professional development program for association, chamber, and nonprofit professionals. She also holds a professional certificate from Babson College's program "Driving Economic Growth Through Scale-Up Ecosystems." Kompanek has authored and co-authored numerous publications addressing the challenges of political and economic reform around the world. Prior to joining CIPE, she worked as a business consultant in Poland on the issues of competitiveness and market entry in Central and Eastern Europe, and in Washington, DC on the global strategy of major corporations. She holds a BA from Indiana University of Pennsylvania, a Master's degree in German and European Studies from Georgetown University's School of Foreign Service, and an MBA from George Mason University. Follow Anna on Twitter @AnnaKompanek.
Adam Sachs is an Associate Program Officer on the Global team at the Center for International Private Enterprise (CIPE). Adam supports cross-regional programs on fostering inclusive digital economies and promoting democratic digital transformation. Prior to CIPE, Adam worked at the National Democratic Institute (NDI) and the Institute for Strategy and Policy Myanmar in Yangon. Earlier in his career, he served as a Legislative Assistant in the House of Representatives where he advised Congresswoman Lucille Roybal-Allard on legislative issues related to immigration, homeland security, U.S. foreign policy, and the environment. He holds a Master's degree in International Development with a focus on Southeast Asia from the Elliott School of International Affairs at the George Washington University. Adam has a Bachelor's degree in Political Science and International Studies from the University of Utah. Follow Adam on Twitter @AD_Sachs.
Location
Zoom & CIPE DC Facebook Live