Following a COVID-19 impact assessment in Ethiopia, CIPE established a revolving loan fund to benefit marginal economic actors – specifically women-owned businesses – to recover from the devastating consequences of the economic downturn triggered by the pandemic. To close the widening finance gap for struggling communities, CIPE is currently engaging with business membership organizations (BMOs) and civil society organizations (CSOs) in Amhara, Oromia, Somali, and Benishangul-Gumuz.
In Amhara, CIPE identified the Amhara Women Entrepreneurs Association (AWEA) as its partner based on its active engagement with marginal economic actors and experience in managing saving and credit programs. Beginning in December 2020, CIPE directly disbursed $70,000 to AWEA, and through its saving and credit cooperatives, AWEA has provided loans to 74 marginal economic actors in six cities of the region (Bahir Dar, Gondar, Dessie, Debre Markos, Motta, and Finote Selam). This series of case stories highlights some of the experiences of loan fund beneficiaries across Ethiopia. 
BEATING STEREOTYPES
Yekaba Abera is a 40-year-old single mother living in Gondar city who has lived with a physical disability since she was six. She has recently been diagnosed with osteoporosis and takes regular medication. Despite her physical challenges, Yekaba is a strong-willed person who does not want to give up on herself.  Yekaba's life is not defined by her disability. She has fought to be independent and has freed herself from becoming a beggar. She does not allow her disability to drag her down and wants to live life just like anyone without a disability would live their life. "There were lots of things I did to survive in the face of my inability to walk," says Yekaba. She used to volunteer at projects that helped orphans and vulnerable children affected by HIV/AIDS in Gondar town, Amhara Regional State, but when the projects were phased out, she was left with no income to support herself.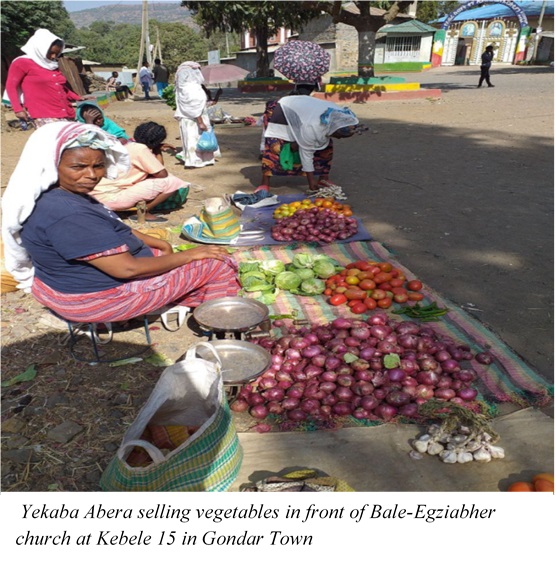 In November 2020, everything changed for Yekaba and her friends when they decided to come together to form an Association of Women with Disabilities. They sought a way to escape begging, which would have been their likely fate. Determined to become self-reliant, Yekaba and her association members started to look for an organization that could provide them with loans to help them start their own businesses and support themselves and their families. "Even though I had the idea to start a business, access to finance has always been a challenge," she said. "The credit requirements, such as getting a well-paid cosigner or someone who owns a property like a house, are impossible to meet."   
Stereotypes of people with disabilities represent another major challenge Yekaba must overcome. "People have the wrong perception towards us [people with disability]; as if we cannot do business by ourselves and we cannot repay our debt." As soon as Yekaba and another four fellow association members found out about CIPE's revolving loan fund initiative, they applied for credits without property for collateral or people to cosign.
The women had nothing but their determination to succeed and vowed they would repay their loans every month. "We begged them to trust us with our word that we want to prove to them that we can make a difference." welcomed their enthusiasm and aspiration to become self-reliant citizens. "The project officers put an emphasis on making us feel comfortable and showed us respect as people who are part of a productive workforce," says Yekaba. After receiving the loan, she and her fellow association members pledged to hold each other accountable.
Dawn of good hope
Yekaba borrowed birr 10,000 (approximately $250) and started a vegetable stall. She set up her business at a spot in front of Bale-Egziabher church in the Keha Eyesus neighborhood at Kebele 15 in Gondar. "I chose to sell vegetables because it is convenient for my physical condition," she says.  Despite the COVID-19 pandemic and community violence which temporarily obstructed farmers' ability to obtain fresh products, Yekaba has been repaying her credit for eight months without interruption. "With all the support, encouragement and regular follow-up from AWEA officers, I am able to maintain repayment amounting to birr 884 (approximately $22) every month" she says. She has worked hard under difficult circumstances by taking precautionary measures against the pandemic. According to Yekaba, all of the beneficiaries who took revolving loans are paying back their loans with full interest and have promised to finalize the repayment within a year.
Yekaba saw a promising start on her investment very early and began building a three-room mud house on land she had previously obtained from the Kebele (local administration). The local administration had given her the land in recognition for her prior volunteer services. Filled with smiles, Yekaba said "Once I saw a good start on my business, I started building the house from the first month on with a hope of finishing it someday." With the help of CIPE and AWEA's revolving loan fund, now her hope of having a house is becoming a reality. In fact, she used the loan to earn a living and become financially independent, which has helped her achieve her dream of having a house. "I am hoping to start living in my own house soon and no longer have to pay the 600 Birr (approximately $15) monthly house rent." With doors and windows left to be fixed, she says, "so far I have invested a total of 40,000 Birr in the house… this has only come true with the support and contribution I get from CIPE through AWEA."
Yekaba still has the vision to become self-reliant. She wants to open a small shop right at the gate of the house she is building and expand her business into commodity retail. She said, "I want to apply for more loans in the near future so that I can be an example for other women with disabilities [to show that] they could be productive [rather] than being treated as dependent."