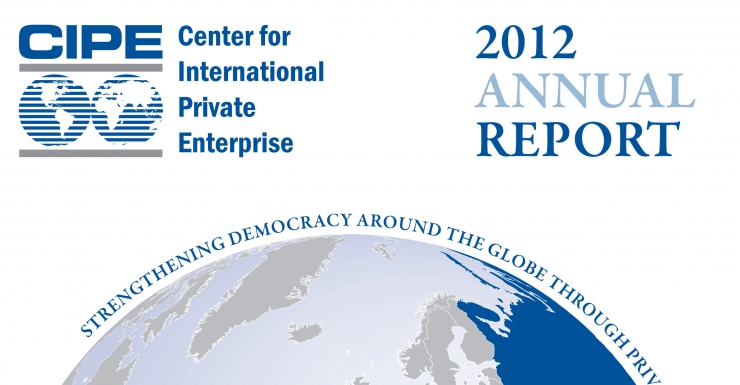 Around the world, tens of millions of men and women strive every day to improve their lives through private enterprise. Over time, their individual accomplishments can add up to wholesale economic and political transformation. But in order for these businesspeople to create change, they need more than ideas and energy. They need a level playing field, fair and inclusive markets, and clear rules of the game. This is where the work of the Center for International Private Enterprise (CIPE) begins, partnering with the private sector to help build the infrastructure of market economies and encourage democratic reform.
REGIONAL STRATEGIES
Middle East and North Africa
Change continued to dominate the Middle East and North Africa (MENA) region in 2012. While some nations found a measure of normalcy, others confronted sectarian clashes and civil war. Throughout the region, CIPE's partners served as a source of skills, knowledge, and inspiration for citizens advocating for democratic institutions and free markets.
South Asia
South Asia's future is undermined by rampant corruption, disenfranchisement of women and youth, and weak democratic institutions. CIPE demonstrated the value of its sustained efforts in the region this year, as a four-year initiative to reform state-owned enterprises (SOEs) led to the creation of a set of draft rules for SOE corporate governance in Pakistan. These have been endorsed at the highest levels and are moving through the approval process.
Eurasia
As strong national leaders reassert control in many Eurasian countries, the window for reform has begun to narrow. In response, CIPE and its partners focused on journalists and educators who are well positioned to increase public awareness of democratic and free market concepts. CIPE worked to strengthen networks and coalitions of business organizations and to help local thought leaders engage effectively and sustainably in the reform process.
Africa
The informal, micro, small, and medium-sized enterprise sectors in Africa represent tremendous potential for economic growth — if the business environment can be modified to support their success. CIPE's 2012 programs in Africa helped business associations, civil society groups, and think tanks gain the capacity to advocate more effectively. The result was a series of laws removing burdensome regulation and reforming tax codes.
Asia
Throughout Asia, CIPE contributed to the maturing of democratic principles, ideals, and institutions. Thanks to CIPE's efforts and those of its partners, there is a growing recognition that sound corporate and public governance promote a more vibrant economy and lead to higher living standards.
Latin America and the Caribbean
A major 2012 theme in Latin America and the Caribbean for CIPE was empowering citizens with the insight and skills needed to participate in the political system and make their mark in the local economy. Many of CIPE's partners found the Internet to be a powerful tool for conveying vital information and fostering dialogue.
Global
CIPE's Global programs in 2012 focused on building broad consensus for democratic and economic reform. As part of this effort, CIPE and its partners have launched a number of initiatives to disseminate best practices worldwide and build a global network of like-minded organizations.