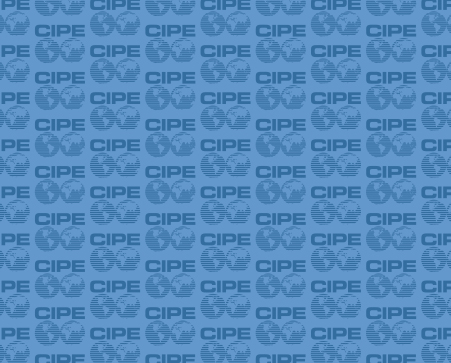 Throughout 2011, CIPE's partners and programs showcased the crucial role that the private sector plays in economic reform and democratic development. This report highlights our partners, their successes and achievements, and the exceptional nature of their work.
View the 2011 annual report online.
AFRICA
CIPE works with the Institute of Economic Affairs in Ghana and the Kitara Heritage Development Agency in Uganda to strengthen democratic institutions and improve transparency in the extractive industries. Strong civil society oversight of mineral and petroleum extraction will help to reduce opportunities for corruption.
ASIA AND SOUTH ASIA
The Institute for Corporate Directors works to improve corporate governance throughout the Philippines. Their corporate governance scorecard, combined with effective policy advocacy by ICD, has contributed to significant improvements in corporate governance in the Philippines. The 2011 "Corporate Governance Scorecard" showed a 53 percent improvement in corporate governance since the launch of the initiative.
EASTERN EUROPE AND EURASIA
CIPE's effort to stimulate entrepreneurial activity and expand opportunities among youth in Russia's economically depressed North Caucasus region yielded significant results. Young people between 18 and 25 participated in a six-part training program and participated in a business plan competition. Eighteen graduates have received government grants, enabling the young entrepreneurs to develop business start-ups in areas ranging from retail trade and agriculture to consumer services.
LATIN AMERICA AND THE CARIBBEAN
Fundación Paraguaya has strengthened the entrepreneurial knowledge and competencies of nearly 900 public school teachers through a series of educator forums held throughout Paraguay. With an average class size of 30 students, these teachers are now sharing their new skills with nearly 27,000 Paraguayan youth.
MIDDLE EAST AND NORTH AFRICA
As part of its comprehensive, private sector-led effort to fight corruption in Egypt, CIPE supported the Egyptian human rights law firm the United Group to draft and release a proposed law on freedom of information for Egypt. The proposal also included suggested language intended to codify freedom of information in Egypt's new constitution.
GLOBAL PROGRAMS
CIPE published more than 20 Economic Reform Feature Service articles, distributed electronically to over 8,000 readers worldwide and downloaded from CIPE website by more than 2,500 visitors. Feature Service articles are the most frequently used CIPE resource, since they focus on the key areas of interest for CIPE audiences: anticorruption, entrepreneurship, corporate governance, and democratic governance. Surveyed audiences – including policymakers, business leaders, civic reformers, and academics – overwhelmingly agree that Feature Service articles, along with other CIPE publications, provide them with the information they need on democratic and market reform that it is of high quality and relevant to their work.