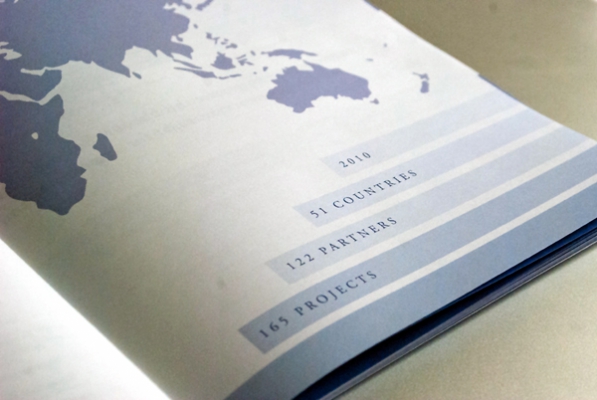 Throughout 2010, CIPE worked across the globe to support democratic reform and developing market economies. This report highlights our partners, their successes and achievements, and the exceptional nature of their work.
AFRICA
CIPE partners with the Private Enterprise Foundation (PEF) in Ghana to provide advocacy support to more than 100 farmer-based associations in four districts in northern Ghana. With CIPE and PEF support, these associations have strengthened advocacy skills and dialogue with local government officials, providing better access to community development programs.
ASIA & SOUTH ASIA
The Institute for Solidarity in Asia works to reform and build the capacities of local governments across the Philippines and emphasizes that delivery of government services is an important part of democratic growth. In 2010, the city of Iloilo increased local tax collection rates and reduced the time required to process business licenses by 85 percent. This healthier economic environment contributed to an expected quadrupling of the city's manufacturing output.
EUROPE & EURASIA
With support from the Association for Foreign Investment and Cooperation in Armenia, a coalition of Armenian business associations successfully advocated for new legislation on state support for small and medium-sized enterprises (SMEs). The new law will ensure that government resources intended to promote small enterprises are allocated appropriately, demonstrating that private sector advocacy is an important voice in the democratic process.
In Russia, CIPE partner OPORA (Union of Business Associations of Russia) successfully advocated for a significant change in the way companies bid on federal, regional, and local government contracts. Russia's Federal Statistical Agency estimates that the change will help free up approximately $50 million in SME capital.
LATIN AMERICA & THE CARIBBEAN
The Paraguayan Foundation for Cooperation and Development has been building an entrepreneurial culture by introducing entrepreneurship education in public schools in Paraguay. Over 1,600 young people have already benefited from this program.
MIDDLE EAST & NORTH AFRICA
CIPE's work with partners in Lebanon was integral to encourage and support the establishment of a Good Governance Unit within the Lebanese Prime Minister's office. This unit stresses public-private dialogue and works with a wide range of civil society organizations on anti-corruption and governance issues within the public administration.
GLOBAL PROGRAMS
CIPE's 2010 youth essay competition attracted more than 600 entries from 81 countries with essays on issues of women's empowerment, democracy that delivers, and the linkages between entrepreneurship and development. CIPE published and shared the winning essays with its extensive global network. Several essays have been published by local media around the world.