November, 14, 2022 (Manama, Kingdom of Bahrain): Export Bahrain has signed a Memorandum of Understanding (MoU) with CIPE (Center for International Private Enterprise) to foster the growth of Bahraini MSMEs through the "Economic Diversification and Access to Finance in Bahrain" project.
The signing of this MoU is a recognition of the cooperation between Export Bahrain and CIPE to support MSMEs in the Kingdom of Bahrain and empower the private sector to lead inclusive and sustainable growth.
Export Bahrain's ongoing commitment towards the "Economic Diversification and Access to Finance in Bahrain" project is significant, as its services provide tangible paths to growth for MSMEs. Furthermore, Export Bahrain plays an integral role in increasing awareness and utilization of the U.S.-Bahrain Free Trade Agreement (FTA). A series of commercial dialogue sessions between U.S. and Bahraini companies encourages Bahrain-based exporters to extend their reach in the United States market.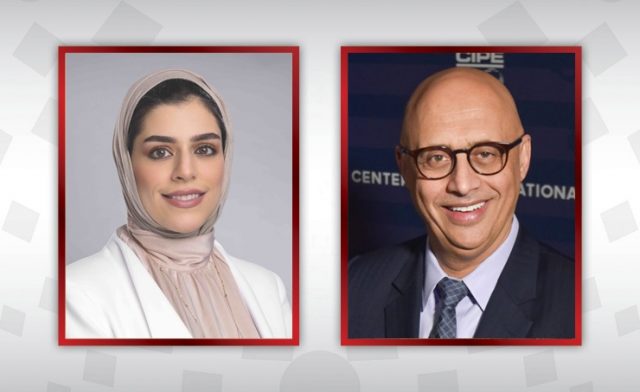 Ms. Fatima Aziz Rostam, Export Bahrain Executive Director, commented on the occasion: "Forming strategic partnerships to build a stronger and a diversified economic future all while assisting businesses based in Bahrain is what drives our operations at Export Bahrain. We are honored to play our part in this agreement by offering MSMEs more export solutions, growth services and investor education, that are necessary to their expansion."
Mr. Abdulwahab Alkebsi, CIPE's Managing Director for Programs, commented on the occasion: "CIPE is proud to support the role of startups and MSMEs in diversifying and growing the Bahraini economy. The services that Export Bahrain provides to the community are a key to unlocking the enormous growth potential of the private sector. We look forward to strengthening our cooperation with Export Bahrain."
For more information on this new service or any other service provided by Export Bahrain, visit www.export.bh, email info@export.bh, or call +973 1738 3999. Stay tuned to the latest news and updates by following @exportbahrain on social media platforms.
The "Economic Diversification and Access to Finance in Bahrain" project is funded by the U.S. Department of State, which makes this collaboration possible.
Published Date: November 15, 2022