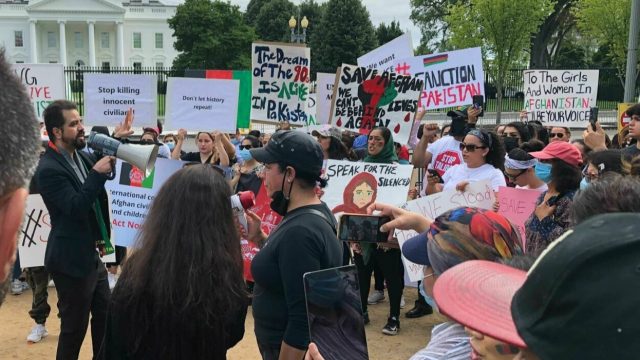 It has been heartbreaking to watch twenty years of Afghan effort and sacrifice at risk following the events of the past few weeks. The people of Afghanistan, like any other nation, have the right to life, economic prosperity, political freedom and social dignity. CIPE stands in solidarity with the people of Afghanistan and will continue to support their right to freedom, democracy and inclusive economic justice.
As American families work together to welcome Afghan families into their new homes, we remain aware of our responsibility to support the resilient voices that are committed to the future of their country and its prospects for democratic governance. We stand committed to our Afghan partners and will do all we can to support them pursue their dream of human prosperity and right to political and economic freedom.
---
ما در چند هفته اخیر شاهد رویدادهای دلخراشی در افغانستان بوده ایم که بیست سال تلاش، دستاورد ها و فداکاری های مردم این سرزمین را در معرض خطر قرار داده است. مردم افغانستان، همانند هر ملت دیگر، از حق زندگی، دسترسی به رفاه اقتصادی، آزادی های سیاسی و کرامت انسانی برخوردار اند. مرکز بین المللی تشبثات خصوصی متعهد به همبستگی با مردم افغانستان بوده و از حق آزادی، دموکراسی و عدالت اقتصادی فراگیر آنان پشتیبانی می کند.
در حالیکه شهروندان آمریکا برای استقبال از خانواده های مهاجر افغان آمادگی میگیرند، ما به مسئولیت خویش در قبال حمایت از نهادهای متعهد به آینده دموکراتیک افغانستان آگاه هستیم. و با تعهد به نهادهای همکار افغان خویش، از هیچ تلاش ممکن در راستای پشتیبانی از رویای دسترسی به رفاه بشری و حق آزادی های سیاسی و اقتصادی آنان دریغ نخواهیم کرد.
د ډیرې خواشینې ځای دی چې تیرو څو اونیو زړه دردونکو پیښو له امله د افغانانو شل کلنې لاسته راوړنې او سرښندنې د خطر سره مخامخ شولې. افغانان لکه د نورو هیوادونو د ولسونو په شان د ژوند کولو، اقتصادي ښیګڼو، سیاسي ازادي او ټولنیز عزت ساتلو حق لري. سایپ د افغانانو سره د ازادی د حمایت، دیموکراسی او ټولنیز عدالت په چوکات کې ولاړ دی او خيلو فعالیتونو ته به دوام ورکوي.
دا چې اوس امریکایي کورنې په شریکه سره کار کوي تر څو د افغانانو کورنیو ته په خپلو نوو کورونو کې ښه راغلاست ووایي، مونږ د خپلو مسوولیتونو نه خبر او متعهد یو تر څو د متعهدو افغانانو نه ماتیدونکي داعیه اوغږ د دوی د هیواد د راتلونکې او دیموکراتیکې حکومتولۍ لپاره به وي، حمایت وکړو. مونږ تعهد لرو چې د خپلو أفغان شریکانو سره ودریږو او د دوی حمایت به تر خپله توانه کوو.