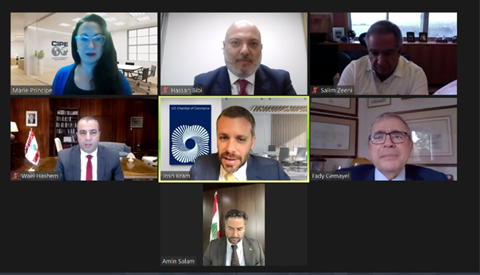 CIPE Program Officer Marie Principe moderated a virtual briefing titled "Lebanon: Economic Recovery Prospects," co-hosted with the U.S. Chamber of Commerce Levant Working Group, AmCham Lebanon, and the Lebanese Embassy to the United States.
The Nov. 4 briefing convened prominent representatives from Lebanon's government and leading private sector voices to discuss Lebanon's path to recovery amid its turbulent internal conditions. Dr. Fady Gemayel, President of CIPE partner the Association of Lebanese Industrialists (ALI), highlighted reform priorities featured in their CIPE-supported policy agenda, like re-investing in Lebanon's industrial sectors to catalyze economic recovery.
His Excellency Amin Salam, Lebanon's new Minister of Economy and Trade, shared his priorities for the coming months, which include reforms to unlock support from the IMF and World Bank, as well as revisions to several laws to enhance competition and promote growth. The Minister also underscored the private sector's crucial role in recovery efforts, adding "We as a government are extending our arms to the private sector during this sensitive time – we must work together."
This event provided a valuable platform for ALI to elevate its advocacy priorities to an international audience of private sector leaders, U.S. commercial companies and representatives from the new Lebanese government.