CIPE's "Economic Diversification and Access to Finance" project, supported by the U.S. Department of State, is underway.
An official launch event on December 7, 2021 punctuated a week of consultations and a visit by the CIPE team to Manama. The launch was held under the patronage of Bahrain's Minister of Labor and Social Development His Excellency Jameel Bin Humaidan.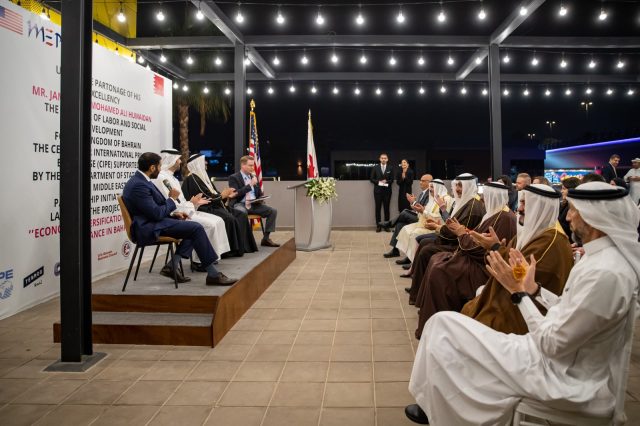 In her keynote remarks at the event, the Chargé d'Affaires of the U.S. Embassy to Bahrain Maggie Nardi emphasized American partnership in helping Bahrain diversify its economy to achieve sustainable economic growth. H.E. Darwish Mannai, a Shura Council member and chairman of the project's Steering Committee, noted that the project aligns with the Kingdom's post-pandemic economic recovery plans and its vision of an economy with a reduced reliance on natural resources.
CIPE's Managing Director Abdulwahab Alkebsi emphasized that improving the investment environment and increasing access to finance will make the Bahraini economy more inclusive and diverse while enhancing its resilience and dynamism.
The CEO of Tenmou Nawaf Alkohegi, a Bahraini angel investors network and CIPE partner in this project, highlighted the potential of growth-oriented startups and SMEs through local investment. More than 50 Bahraini public and private sector leaders participated in the event, which was held at the newest location of Tenmou's "Collective Hub" coworking space.
The event included a panel discussion which explored ways to unleash the growth potential of Bahraini SMEs and startups, moderated by CIPE's Deputy Regional Director for MENA Stephen Rosenlund. The panelists, representing Tenmou, the Bahrain SMEs Society, and the American Chamber of Commerce in Bahrain (AmCham Bahrain), emphasized the role of the Bahraini private sector and strengthened commercial cooperation with the U.S. in driving post-pandemic economic recovery and the diversification of the Bahraini economy.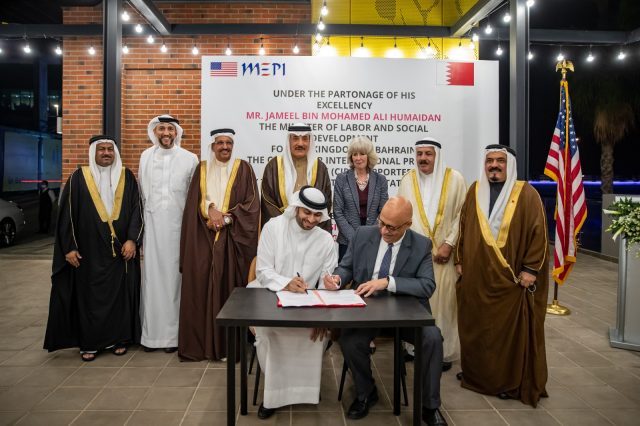 As the culmination of the event, CIPE signed a partnership agreement with Tenmou which formalizes its role in providing business growth services and investor education through the program.
This new project supports inclusive and sustainable development by expanding opportunity for Bahraini SMEs. The main activities will involve the provision of mentorship, training, and other business support services; investor education and readiness; policy reform to strengthen Bahrain's entrepreneurship ecosystem particularly around access to finance; and commercial dialogue between the U.S. and Bahrain to expand utilization of the U.S.-Bahrain Free Trade Agreement (FTA) and other bilateral business opportunities.
---
Read more coverage of the event here: