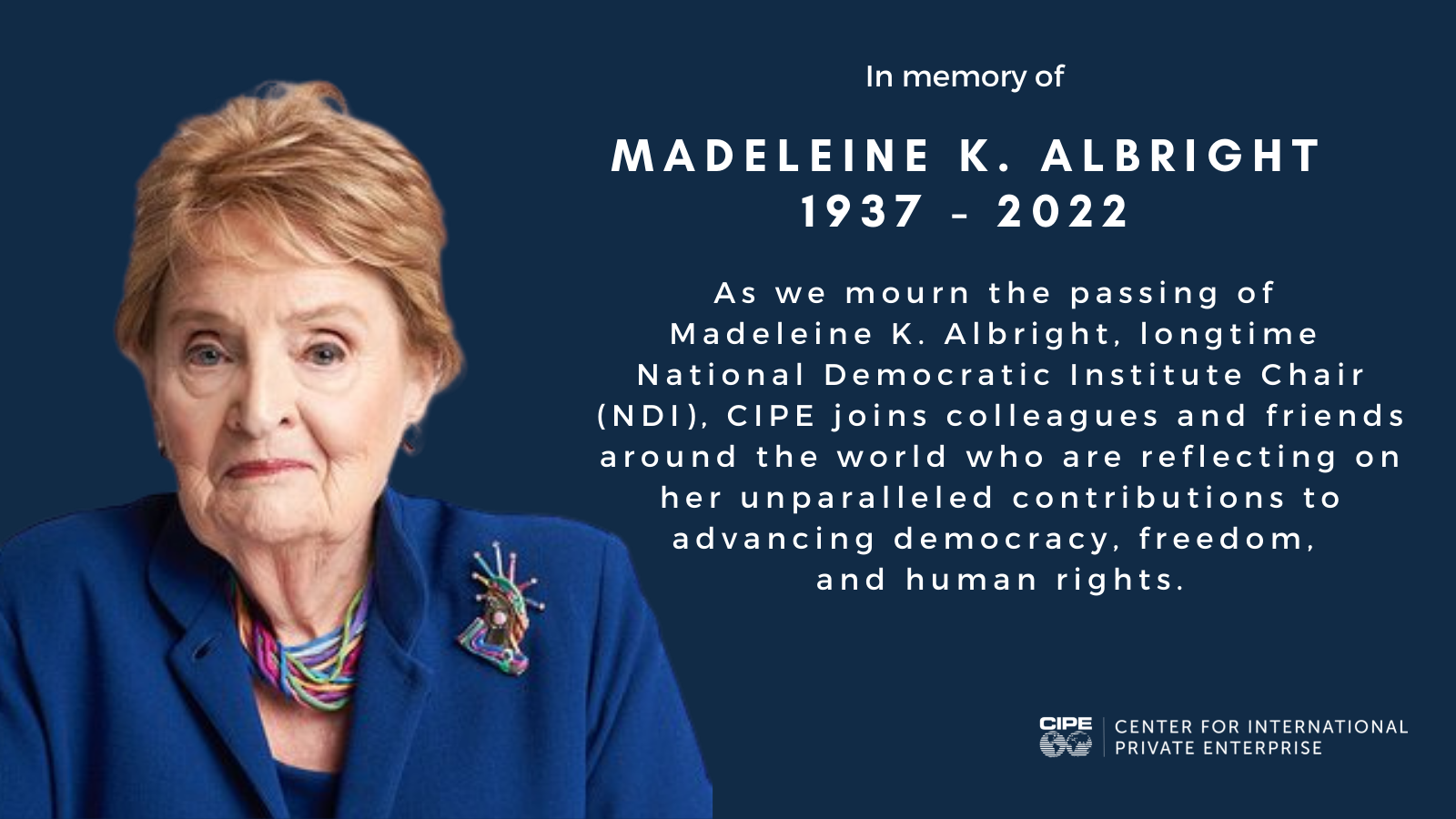 As we mourn the passing of Madeleine K. Albright, longtime Chair of the National Democratic Institute (NDI), CIPE joins colleagues and friends around the world who are reflecting on her unparalleled contributions to advancing democracy, freedom, and human rights. Albright's work is mirrored in many of CIPE's programs and efforts worldwide, including the conviction that democracy must deliver for every citizen and that a strong free market economy underpins every vibrant democracy.
The daughter of Cold War refugees, she became a tireless champion for liberty, inclusiveness, and women's economic empowerment. As the first woman U.S. Secretary of State, Albright was a strong advocate for democratic development and a passionate voice for all people in need, including the oppressed and the impoverished. She often said that building democracy "should revolve around a simple and basic idea: that every individual counts."
Among her many accomplishments, Secretary Albright helped found the Community of Democracies, a coalition of countries that defend democratic values around the world, and she served on the Board of Directors for the National Endowment for Democracy (NED), of which CIPE and NDI are core institutes. Over the years, she worked closely with our leadership and others to demonstrate how democratic principles strengthen national security and market-based economies. Her actions have inspired generations of people who are making the world a better place.
At a December NED event around the U.S. Summit for Democracy, Secretary Albright joined CIPE Chairman Greg Lebedev and others in sharing their perspectives on addressing current threats to democracy and world order. "It is easier to move upward from a valley, than from a peak," she said. "So, despite our current distress, the globe is still far freer now than it was the first five decades of my life. We democrats have an enlarged platform from which to mount a revival."
CIPE honors the legacy of Madeleine Albright, which will live on through our programs in more than 80 countries worldwide and the work of countless other organizations and individuals. We extend our deepest sympathies to her family and friends, including our colleagues at NDI.