Efforts to ensure gender equality and inclusion are growing priorities for communities and governments worldwide. Many are looking to CIPE's Center for Women's Economic Empowerment (CWEE) and its wide global partner network to help make change.
CWEE, which officially celebrates its third anniversary this month, draws on lessons learned from hundreds of CIPE programs that help women worldwide overcome legal and social barriers to economic and political participation.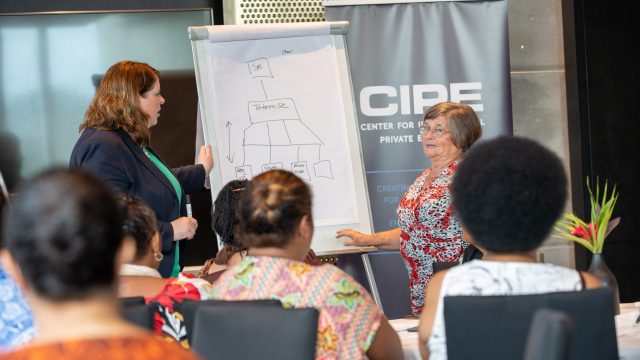 From Palestine to Papua New Guinea, many thousands of women are now business owners, property owners, and leaders in their communities because of CIPE support and initiatives.
The Global Alliance for Trade Facilitation (known as GATF and led by CIPE, the International Chamber of Commerce, and the World Economic Forum) has identified several key success factors and is spotlighting sectors and businesses showing positive impact. The findings are outlined in a new publication entitled Lessons Learned: Gender Sensitizing Trade Facilitation Reform. It is also the topic of a recent CIPE podcast hosted by CWEE Director Barb Langley and featuring the Knowledge Specialist of GATF and a representative from Deutsche Post DHL Group, which has an impressive track record for building diversity in the workforce.
Throughout the month of March, CIPE and CWEE will show how these programs work, highlight models of success, and introduce many of the women who make it happen. The special reports and events are timed to coincide with observances around United Nations International Women's Day on March 8. March is also Women's History Month in the United States.