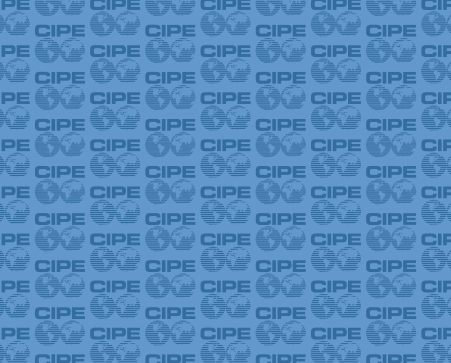 On November 1, CIPE held an on-the-record presentation for the U.S Ukraine Business Council, during which Former Ambassador to Ukraine, Steven Pifer, presented and discussed his new book on his new book entitled "The Eagle and the Trident: U.S.-Ukraine Relations in Turbulent Times."
The new book provides the first comprehensive account of the development of U.S. diplomatic relations with an independent Ukraine, covering the years 1992 through 2004 following the collapse of the Soviet Union. The United States devoted greater attention to Ukraine than any other post-Soviet state (except Russia) after the breakup of the Soviet Union.
Ambassador Pifer will offer a practitioner's recommendations for current U.S. policies in the context of ongoing uncertainty about the political stability of Ukraine and Russia's long-term intentions toward its smaller but important neighbor. Pifer's book and his personal presentation in Kyiv will conclude with lessons learned and recommendations for how U.S. policy might more effectively help Ukraine to become a stable, independent, democratic state with a robust market economy.
Steven Pifer, a career Foreign Service officer, worked on U.S.-Ukraine relations at the State Department and the White House during that period and also served as ambassador to Ukraine. With this volume, he has written the definitive narrative of the ups and downs in the relationship between Washington and newly independent Ukraine.
Ambassador Pifer was introduced by Marc Schleifer, Regional Director for Eastern Europe, Eurasia, and South Asia at CIPE, and the Q&A Session following the presentation was moderated by Eric Hontz, Program Officer for Eurasia at CIPE.
Listen to our post-event podcast with Ambassador Pifer below
Location
Center for International Private Enterprise
1211 Connecticut Avenue, NW, Suite 700,
Washington, DC 20036