Tim Robinson, Chief Compliance Officer at BHP, joined CIPE's Anti-Corruption & Governance Center (ACGC) podcast on the margins of December's International Anti-Corruption Conference to discuss why BHP – one of the world's largest mining companies – has chosen to actively prioritize integrity and business ownership transparency with its partners and global supply chain. As he shares, "effective anti-corruption measures and an effective anti-corruption environment…helps promote a level playing field…[and] prevents corrupt companies from gaining an unfair and illegal advantage when competing." Listen now to hear Robinson discuss the specific initiatives that BHP is a part of, including beneficial ownership initiatives and commitments to a sustainable transition to a clean energy future. This episode is co-hosted by Michele Crymes, ACGC Program Director, and Ben Schmidt, Program Officer with ACGC.
---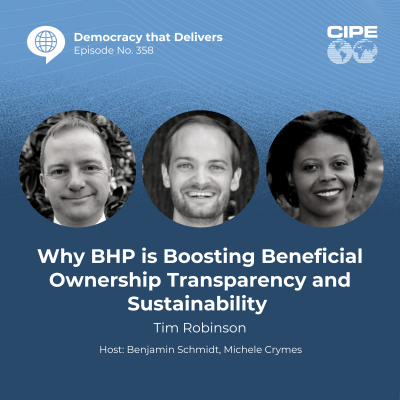 Want to hear more? Listen to previous podcasts at CIPE.org/podcast.
Subscribe to the podcast on iTunes or your Android device.
Like this podcast? Please review us on iTunes.