James Wasserstrom and Tamara Razin, co-chairs of Moldova's Independent Anti-Corruption Advisory Committee (CCIA), join CIPE's Anti-Corruption & Governance Center podcast to discuss the CCIA's high-stakes role in combating strategic corruption. Founded in June 2021— after Moldova elected president Maia Sandu on a promise to end the "rule of thieves"—the politically independent body aims to stop state capture, analyze systemic corruption issues across institutions in Moldova, and improve the implementation of anti-corruption measures. Listen now to hear how Wasserstrom and Razin's experience fighting corruption in Afghanistan and Ukraine has guided the new organization, how they're leveraging research to make an impact despite lacking investigative powers, and a summary of what the CCIA has uncovered thus far in its fact-finding work. This episode is hosted by Katya Lysova, Senior Program Officer for Eurasia specializing in business integrity and anti-corruption compliance.
---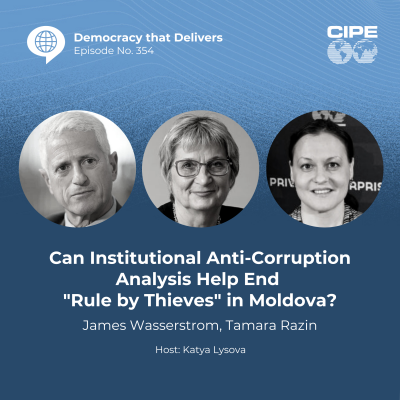 Want to hear more? Listen to previous podcasts at CIPE.org/podcast.
Subscribe to the podcast on iTunes or your Android device.
Like this podcast? Please review us on iTunes.