Jackline Lidubwi, Project Lead at Internews Kenya, joins Anna Kompanek, Director for CIPE's Global Programs, to talk about inclusion of persons with disabilities, specifically those in developing countries.
Jackline Lidubwi is a multi-award winning disability media activist, media trainer, and journalist with 20 years of experience in disability reporting. She leads the Inclusive Media Project across Sub-Saharan Africa at Internews.
Lidubwi discusses her current project at Internews with Kompanek and its focuses on barriers that persons with disabilities face, advances in technologies and their potential for inclusion, and more.
---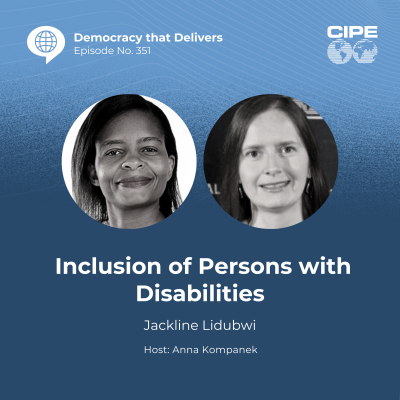 Want to hear more? Listen to previous podcasts at CIPE.org/podcast.
Subscribe to the podcast on iTunes or your Android device.
Like this podcast? Please review us on iTunes.