Anti-corruption lawyer Bill Steinman joins the Anti-Corruption & Governance Center (ACGC) podcast to discuss cases of companies cutting deals with terrorist organizations in dangerous foreign markets. The lively discussion starts with the now infamous Lafarge enforcement action, announced by the U.S. Department of Justice in October 2022. It involves a French multi-national cement firm that pled guilty for "conspiring to provide material support and resources" to both ISIS and Al-Nusra Front in Syria in 2013 and 2014. Listen now to hear the similarities and shocking differences between Lafarge's decision-making and parallel cases in Colombia and the Niger Delta, the rationale behind a zero-tolerance U.S. legal standard for payments made to known terrorists, and how Lafarge executives ended up providing U.S. authorities copies of agreements signed on ISIS letterhead. The podcast is co-hosted by Lola Adekanye, CIPE Program Director for Africa, and Ben Schmidt, Program Officer with ACGC.
---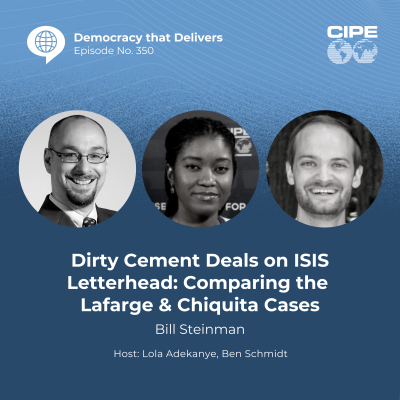 Want to hear more? Listen to previous podcasts at CIPE.org/podcast.
Subscribe to the podcast on iTunes or your Android device.
Like this podcast? Please review us on iTunes.