From Armenia, Shushan Doydoyan, president of the Freedom of Information Center, and Lilya Afrikyan, coordinator for the Prime Minister's Office of Open Government Partnership, join the Anti-Corruption & Governance Center podcast this week to discuss the challenges and successes Armenia is experiencing as it fights to enact beneficial ownership transparency (BOT) reforms. Just after its 2018 revolution, the country's new government collaborated with civil society to implement a plan to transform existing beneficial ownership records into a comprehensive, digital, and open resource. Listen now to find out how and why the country was among the first to launch this kind of sweeping BOT initiative. This episode is hosted by CIPE's Luiza Ayvazyan, Program Officer for Armenia on the South Caucasus team.
---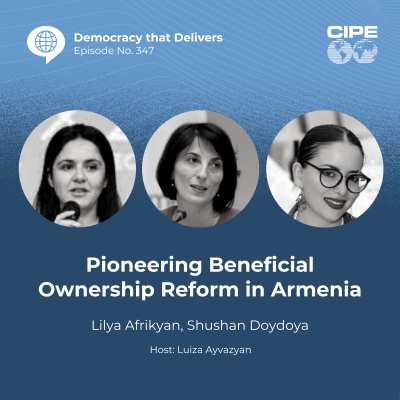 Want to hear more? Listen to previous podcasts at CIPE.org/podcast.
Subscribe to the podcast on iTunes or your Android device.
Like this podcast? Please review us on iTunes.