Free Enterprise and Democracy Network (FEDN) Small Grant awardees Milos Nikolic of Libek in Serbia, Grace Nzou of Niusline Media in Kenya, and Yemi Adamolekun of Enough is Enough in Nigeria speak with Tamari Dzotsenidze, Associate Program Officer for CIPE's Policy and Program Learning team about their projects focused around increasing youth engagement in democracy and civic spaces.
In this episode, our host and guests discuss the impact of their small grants on democracy in their local communities, special considerations when working with youth, and what gives them hope for the future.
Editor's note: The Free Enterprise and Democracy Network (FEDN) will be hosting the second annual FEDN Conference with the theme "Rallying for Freedom: From Ideals to Engagement." Register today for more insights from FEDN members!
---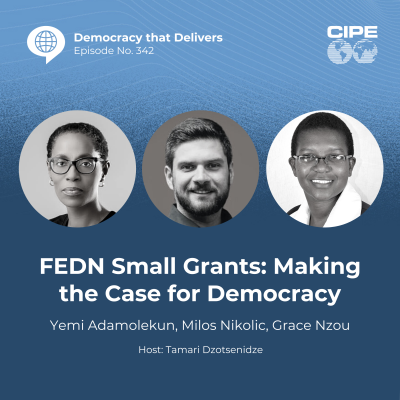 Want to hear more? Listen to previous podcasts at CIPE.org/podcast.
Subscribe to the podcast on iTunes or your Android device.
Like this podcast? Please review us on iTunes.