Madgi M. Amin, former Senior Advisor to the Transitional Government of Sudan, joins the CIPE Anti-Corruption & Governance Center (ACGC) podcast this week to share insights and lessons learned in Sudan, including several unintended effects of anti-corruption measures implemented during Sudan's democratic transitional period. Empowered by a successful citizen-led revolution in 2019, Sudan embarked on a three-year democratic transition overseen by a joint military-civilian Sovereign Council to reform the country's government into a fairer and more transparent system. As tackling corruption became a top priority, reform measures implemented and that looked like progress to external observers sparked disagreements that threatened the overall stability of Sudan's transition period. Listen now to hear Amin map out his views on where the implementation missteps were made and what actions should be taken to prevent this from happening in other democratic transitions. Amin is joined by hosts Frank Brown, Director of CIPE's ACGC, and Staci Samuels, CIPE ACGC Program Officer.
---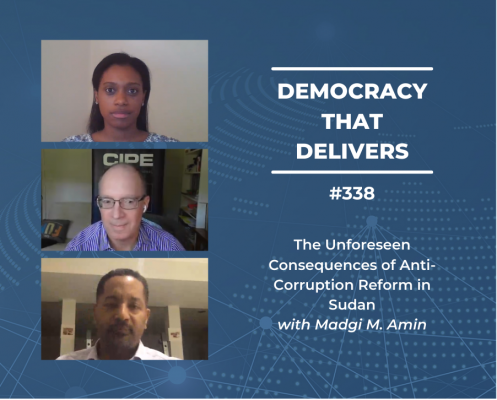 Want to hear more? Listen to previous podcasts at CIPE.org/podcast.
Subscribe to the podcast on iTunes or your Android device.
Like this podcast? Please review us on iTunes.