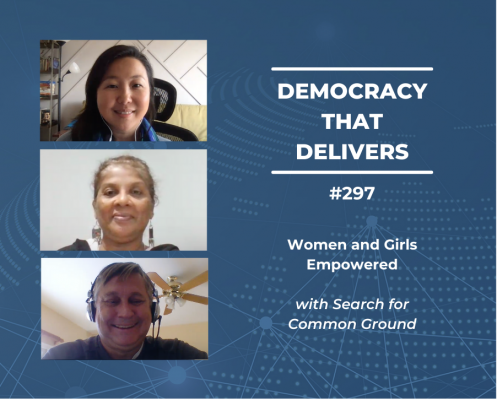 The Democracy that Delivers "Women and Girls Empowered" (WAGE) mini-series spotlights the WAGE core partners' women empowerment projects. In the last of four episodes, our host Ken Jaques gets to know Search for Common Ground (SfCG) Research, Evaluation & Learning Specialist Aisalkyn Botoeva and Gender Advisor Nalini Rathnarajah. From conflict-sensitive initiatives in Sri Lanka and Myanmar, Aisalkyn and Nalini share the unique challenges of advancing the Women, Peace, and Security agenda while addressing women's conflict-related needs and encouraging their participation in reconciliation processes.
---
Want to hear more? Listen to previous podcasts at CIPE.org/podcast.
Subscribe to the podcast on iTunes or your Android device.
Like this podcast? Please review us on iTunes.