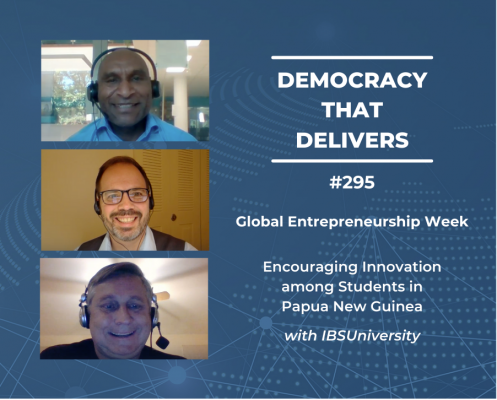 Steve Kimbu, Senior Lecturer at IBSUniversity in Papua New Guinea, joins the Democracy that Delivers podcast host Ken Jaques and CIPE Policy and Program Learning Director Kim Bettcher for the first of a two-part mini-series in celebration of Global Entrepreneurship Week.
Kimbu teaches ways to encourage innovation and entrepreneurship at the university. "We need to go beyond teaching," Kimbu says. He cites the success of a CIPE supported program that helps teachers and students apply classroom principles of accounting and management in the real world.
---
Want to hear more? Listen to previous podcasts at CIPE.org/podcast.
Subscribe to the podcast on iTunes or your Android device.
Like this podcast? Please review us on iTunes.