With the drastic shift in the labor market during the COVID-19 pandemic, the demand for technological innovation to continue business operations in many industries worldwide is increasing.
As new technology disrupts the workforce, new skills are necessary to keep up with these developments.
Technical Vocational Education and Training (TVET) plays a vital role in producing skilled workers, and is essential in addressing these challenges. Yet the Philippines' TVET system does not quickly respond to the needs of industry and is often overtaken by the fast-changing technological development characteristic of the 4th Industrial Revolution. Limited participation and cooperation issues among stakeholders in the administration of TVET, and the slow and untimely updating of training regulations that meet global standards exacerbates the lag.
In partnership with the Center for International Private Enterprise (CIPE) and the Diplomatic League (DLeague), the youth engagement platform of the Philippine Embassy in Wellington, my team and I authored a policy paper with recommendations on improving the Philippines' approach to upskilling and right-skilling TVET students in the country. The policy paper is a culmination of gathered knowledge from the relevant multi-stakeholders (i.e., academia, government, and private sector) in the ecosystem of the TVET sector in the Philippines.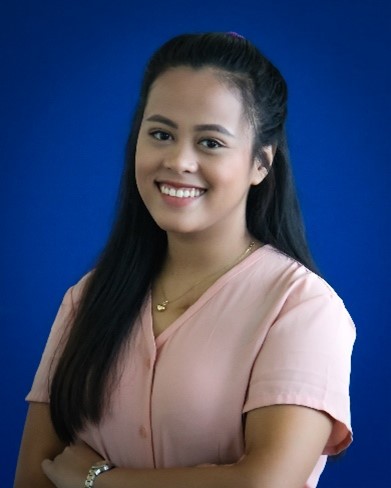 Through a series of consultations with the multi-stakeholders, we identified the following underlying issues that need action and policy solutions:
1. Amendment of Technical Education and Skills Development Authority (TESDA) Law to delegate assessment responsibilities to the business sector/business chambers
Revisit R.A. 7796 or TESDA Act of 1994 (Section 25) and re-examine the need to decentralize some of TESDA's functions, i.e., Competency Assessment and Certification
Expand the priority sectors based on the needs of the regional and local industries through regular assessment and consultation.
2. Annual Updating of Training Regulations
Collaboration between the Industry Board of TESDA and Education Task Force of Philippine Chamber of Commerce and Industry
Upgrading to technology-driven modalities of education
Yearly updating of training regulations of TESDA
3. Market Incentives for Industry Stakeholders
Pre-Employment Enterprise Training System and Dual Education and Training System Consultation and Ratio of classroom to field education
Industry and student tenure bond
Upgrading equipment and technology
These are multifaceted and multisectoral solutions to the aforementioned set of problems, carefully assessed in accordance with what is needed in the TVET system. We recommend a mixed option adopting all the above-mentioned recommendations to properly address the problems of TVET in the country and cope with the 4th Industrial Revolution. To assist policy makers, academia, and businesses in making decisions, we propose a phased implementation strategy as presented below: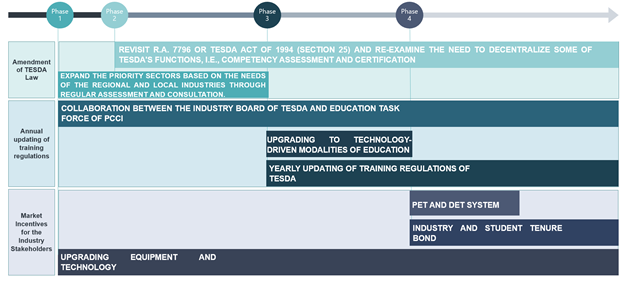 We are optimistic that these policy options, if considered by the multi-stakeholders, can bring about the intended development of TVET in the country.
At CIPE's inaugural Youth Leadership Conference on September 28, 2021, I discussed our findings and presented our policy recommendations. Watch the session below: