In February 2019, CIPE's longtime partner the Lagos Chamber of Commerce and Industry (LCCI) together with the Convention for Business Integrity (CBi) and CIPE's Lagos Office embarked on a collaborative project to improve transparency and trust amongst government regulatory agencies. The project specifically worked to curb regulatory infractions against Micro, Small and Medium Enterprises (MSMEs), a major bottleneck in MSME development. 
Two major federal agencies in Nigeria: The Federal Inland Revenue Service (FIRS) and the National Agency for Food and Drug Administration and Control (NAFDAC), were identified in a poll by Dun & Bradstreet as the "least transparent" agencies and became the target of reform efforts. 
Approach to Action
Wielding the poll results, CIPE & LCCI commissioned a survey to determine the "transactional cost of corruption" in MSMEs' dealings with FIRS and NAFDAC to measure the impact on business performance and survival.
More than 500 MSMEs across 3 states were surveyed via random sample and in targeted selections of businesses over 2 months in 2019. Respondents were required to have had relations with the agencies in the last 12 months and the survey questions addressed transparency, efficiency, standard operation systems as well as experiences with bribery and overall satisfaction of services provided.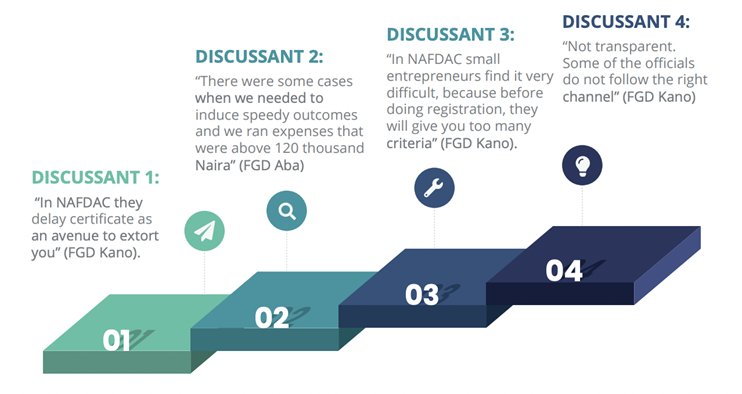 Following the survey, 3 Focus Group Discussions (FGDs) were held in early 2020, attended by 27 business owners and managers. Anecdotes from the FGD can be found in Figure 1.
Following the FGD's, LCCI, CBi and CIPE held separate Public-Private Dialogues (PPDs) with NAFDAC & FIRS to explain the results of the surveys as well as discuss next steps to issues presented by the surveys. Over 200 people were in attendance, including high-ranking officials of these agencies.
Major MSME Grievances
LCCI and CBi identified the key grievances with regulatory agencies to be:
Inefficient processes that are perpetuated by lack of Standard Operating Procedures (SOPs).
Processing timelines and complaint mechanisms that are not explicitly stated or effectively communicated.
Information technology systems intended to streamline processes that are poorly deployed and seldom used.
FIRS and NAFDAC devote significant attention to revenue generation rather than facilitating small business services. See Figures 2 and 3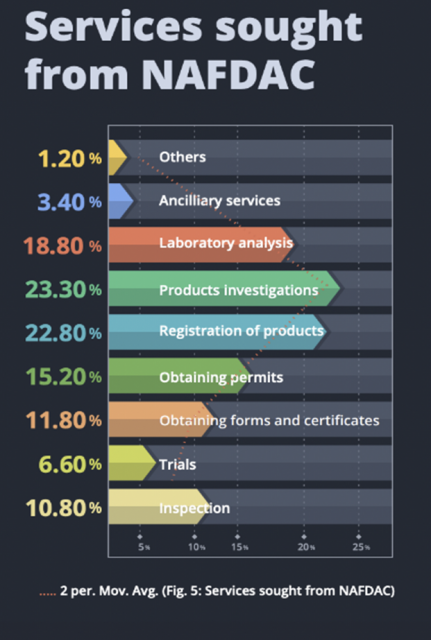 Cost of Corruption for MSMEs
MSMEs reported paying between 5% to 50% extra in the cost of business through NAFDAC and FIRS essential services, as shown below in Figure 4, which is estimated at 1,000-50,000 Naira ($2.50-$135 USD, 2019) for 64% of MSMEs and 51,000-100,000 Naira ($135 to $275 USD, 2019) for 12.3% of MSMEs. The costly services occur via direct engagement with the ministries and their intermediaries, accounting for 83.2% of extra agency costs. However, a reform policy both NAFDAC and FIRS are instituting is the elimination of intermediaries in hopes that direct engagement with the agencies will streamline product registration and taxation processes as well as curb corruption.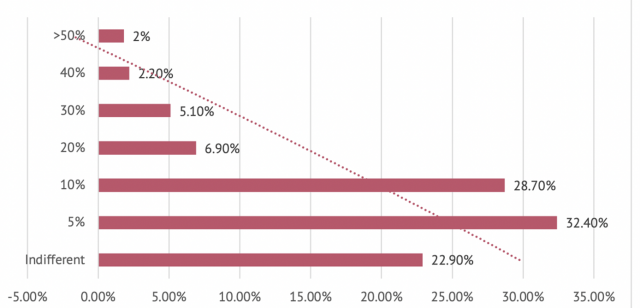 The Challenges Continue
In addition to eliminating intermediaries, the survey results showed that 16% of businesses do not know how to file complaints, 73.5% are indifferent to the Grievance Redress Mechanisms (GRM), and only 4% of MSMEs are aware of the GRM process. Many fear reprisal if they submit grievance claims. If businesses are not able to privately submit complaints, this only perpetuates a system in which MSMEs are susceptible to the changing policies and demands of government agencies. As such, LCCI, CBi, and CIPE hope to use this data to shift business culture from meeting the needs of agencies to improving the business operating environment.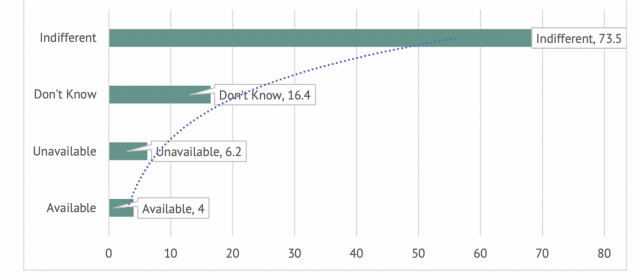 Outcomes
Leadership at both FIRS and NAFDAC were willing participants and expressed commitments to reforms. As of August 2021, NAFDAC and FIRS have committed to staff re-orientation, developing a taskforce on compliance monitoring, and the creation of "Taxpro Max," a service streamlining the process of paying taxes and easing product registration bottlenecks, as part of a larger commitment to strengthen technology infrastructure to limit human interface. LCCI will continue to work toward reforms to effectively support a greater number of MSMEs in Nigeria's through communication and new policy initiatives to strengthen a democratic, transparent, and reliable business regulatory environment in Nigeria.
Improving the competitiveness of the Nigerian private sector is crucial to the country's participation in the African Continental Free Trade Area (AfCFTA). MSMEs cannot afford to be held down by dysfunctional business environment and LCCI will continue to replicate the mechanisms for mass surveys, FGDs, and PPDs expand agency reform efforts to new agencies to continue improving Nigeria's business regulatory institutions for generations to come.