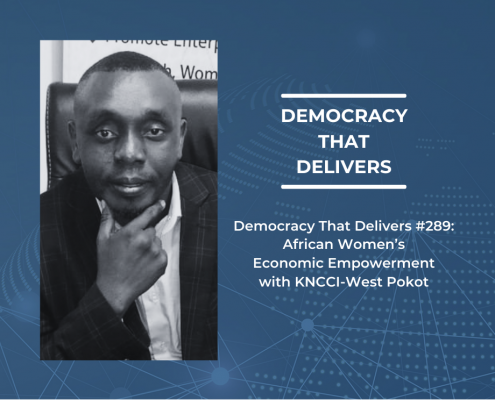 This two-part mini-series of Democracy that Delivers celebrates the winners of CIPE Africa's Women Economic Empowerment Contest. The first episode features the Kenya National Chamber of Commerce and Industry's (KNCCI) West Pokot Chapter, a shining example of the impact associations can have in support of women in business. KNCCI-West Pokot CEO I. M. Seth joins program host Ken Jaques and co-hosting Program Officer Ryan Musser to shed light on the unique barriers that women in this rural county face at every turn of entrepreneurship, from ownership rights, financial assistance, and market access, to safety, education, technology, and networks. Listen to how KNCCI-West Pokot and CIPE partner in advocating for businesswomen with local government and the business community, empower them with trainings, loans, infrastructure, and policy, as well as highlight their achievements.
---
Want to hear more? Listen to previous podcasts at CIPE.org/podcast.
Subscribe to the podcast on iTunes or your Android device.
Like this podcast? Please review us on iTunes.